2021 Volkswagen Golf (UK-Spec)
It is 45 years since the Volkswagen Golf – Europe's best-selling new car – made its debut in the UK. It has become nothing short of a phenomenon, in turn defining its class and becoming the standard with which all others are compared. Now, the eighth generation of this remarkable car promises to build on the huge success of its forebears through crisp, refined design inside and out; greater efficiency with reduced emissions; state-of-the-art technology; and the trademark qualities of reliability and refinement that are synonymous with the Volkswagen brand.
The new Golf's cutting-edge digital architecture makes this family of five-door hatchback models among the most advanced in its class, while it also becomes the first Volkswagen to use the collective traffic intelligence of Car2X technology to proactively warn drivers of hazards ahead. The latest Golf is also the first car in its sector to offer a completely digital, high-end driving environment as standard – labelled Innovision Cockpit. Meanwhile, the Digital Key feature means that compatible smartphones will make traditional car keys redundant in the new Golf.
Sitting on the latest and most advanced iteration of the Volkswagen Group's supremely flexible Modular Transverse Matrix (MQB) platform, the new Golf measures 4,284 mm long, 1,789 mm wide (excluding wing mirrors) and 1,491 mm high. The wheelbase now stands at 2,619 mm. For comparison, the outgoing Golf (Mk 7) measures 4,258 mm long, 1,790 mm wide (excluding mirrors), 1,492 mm high, and has a wheelbase of 2,620 mm. Design and aerodynamic refinements have cut the new Golf's Cd figure from 0.30 to 0.275 – making this iteration of Golf the most sleek and refined to date.
Usability, of course, remains paramount and today's Golf boasts boot space of 381 litres with all five seats in place. When the asymmetrically split rear seat backrest is folded down, the load capacity increases to a maximum of 1,237 litres. Meanwhile when compared with its predecessor the already-generous shoulder room (1,420 mm at the front, 1,370 mm at the rear) and headroom (1,018 mm at the front, 968 mm at the rear) are practically unchanged.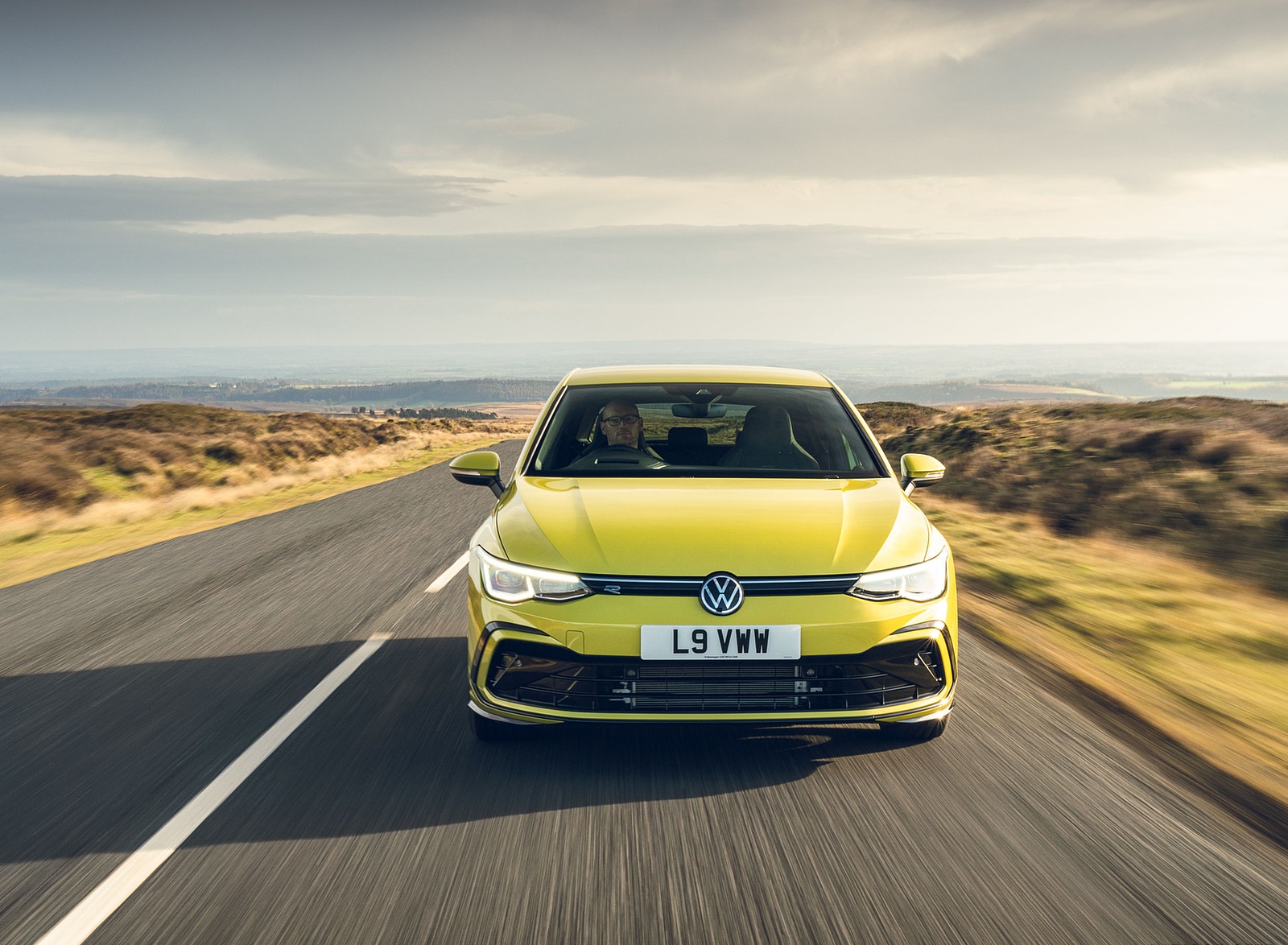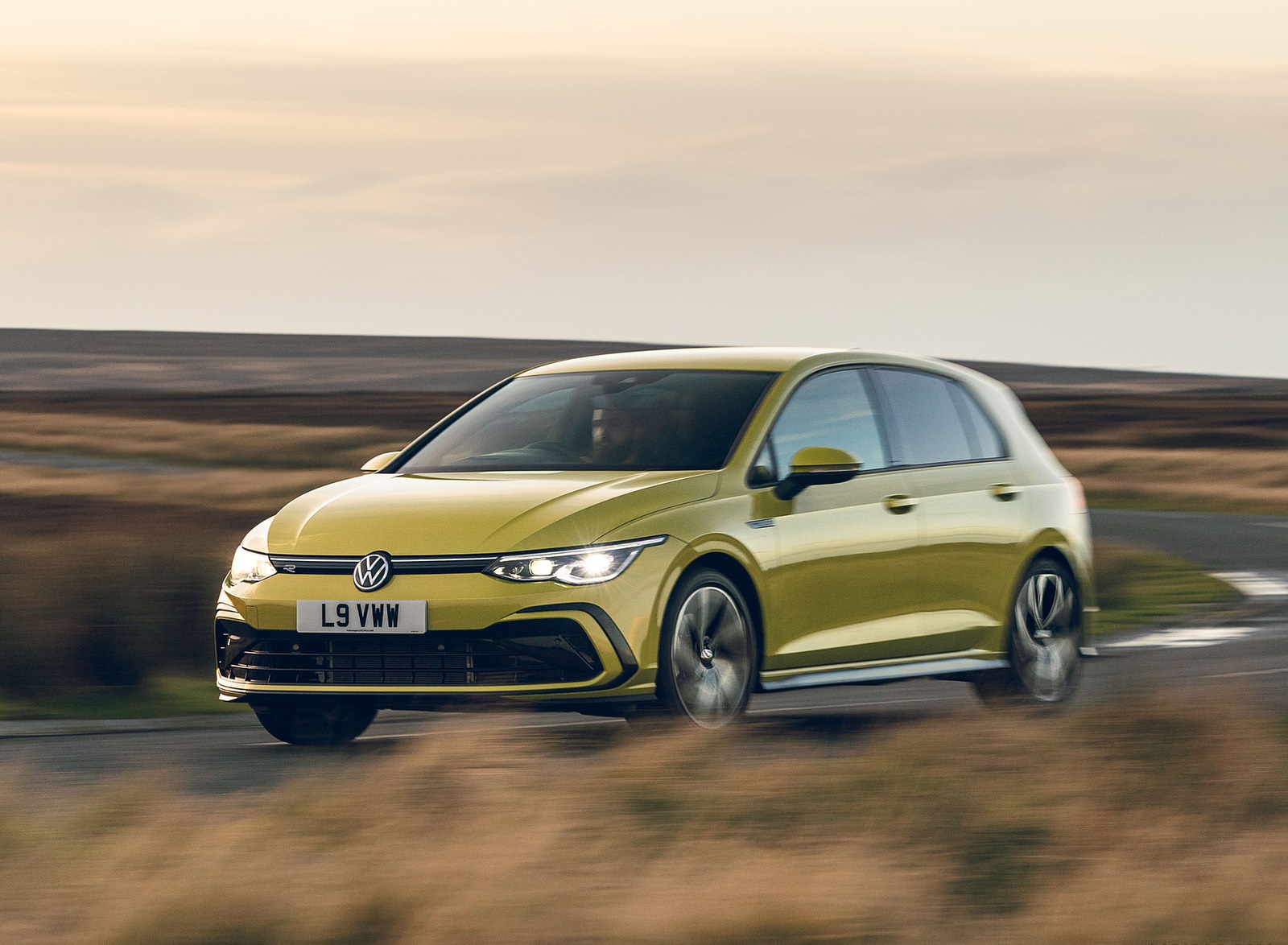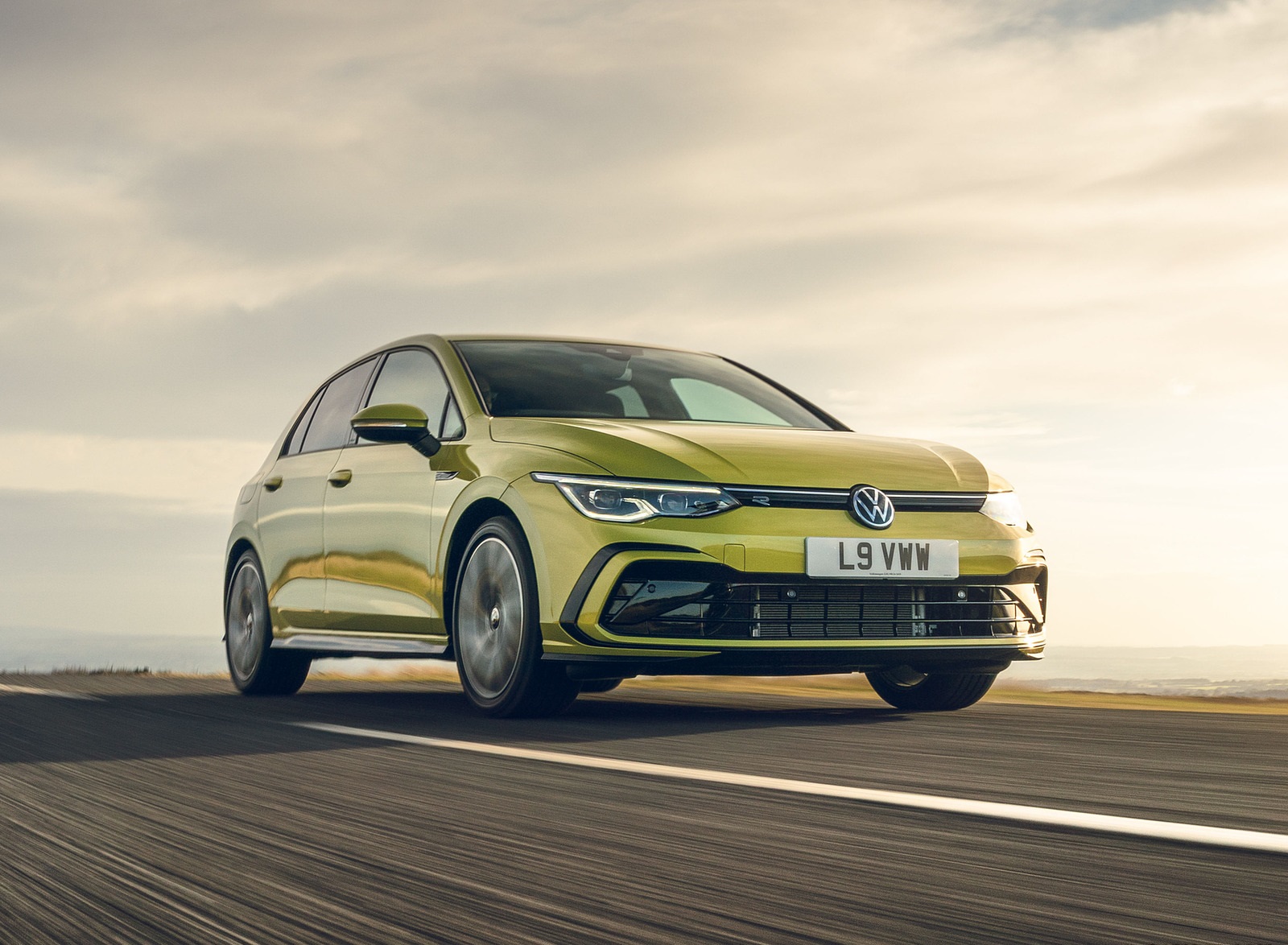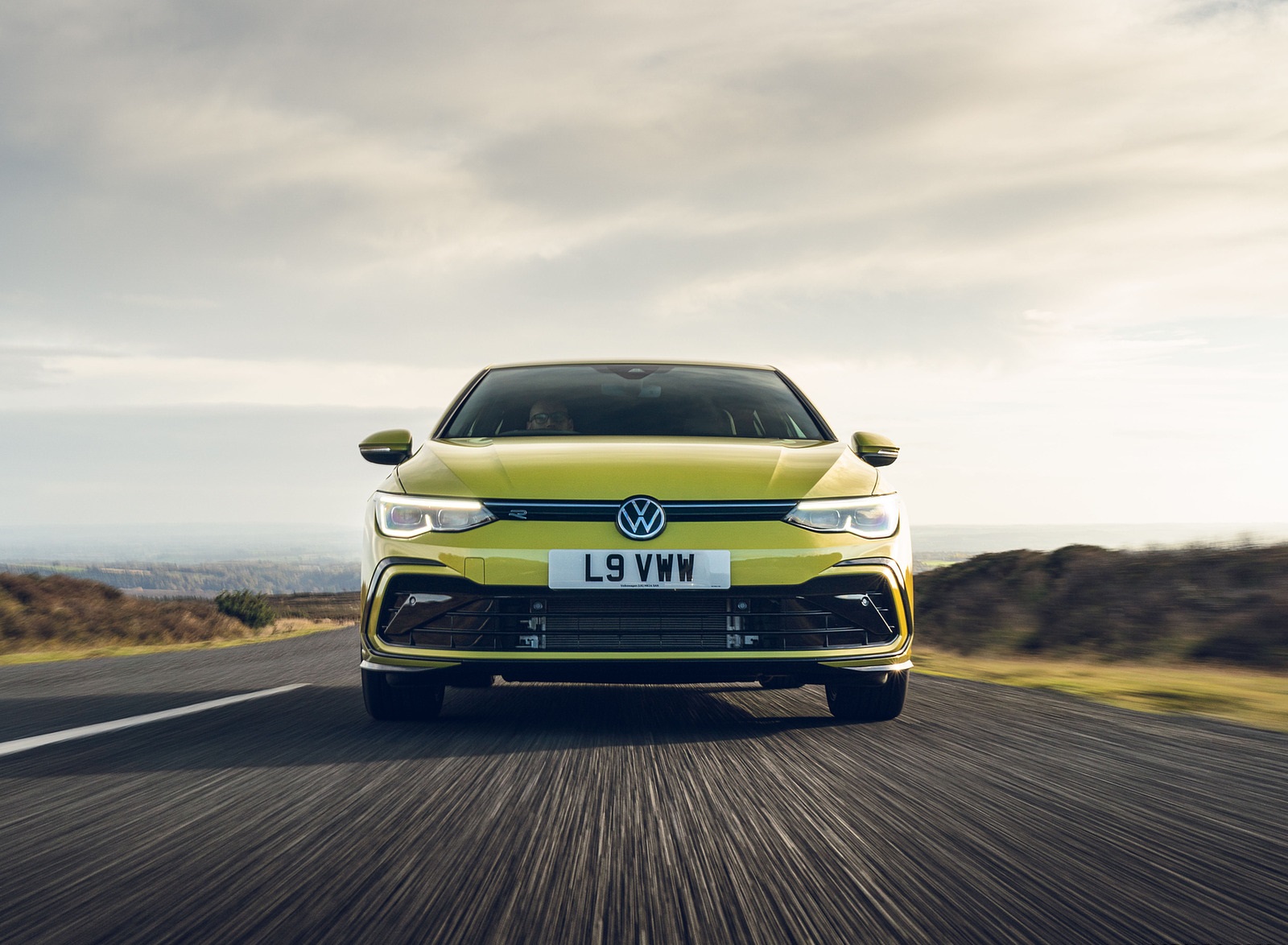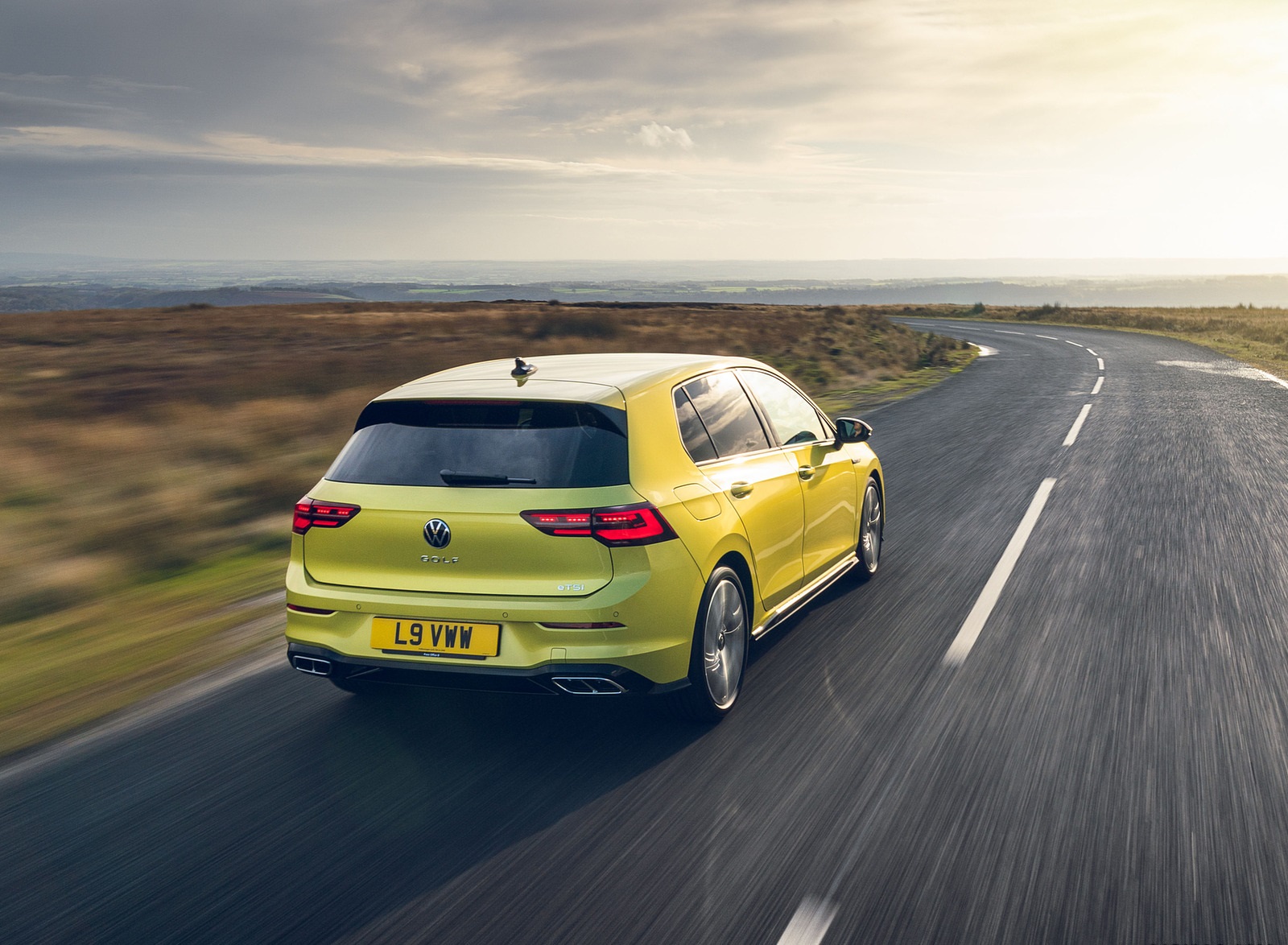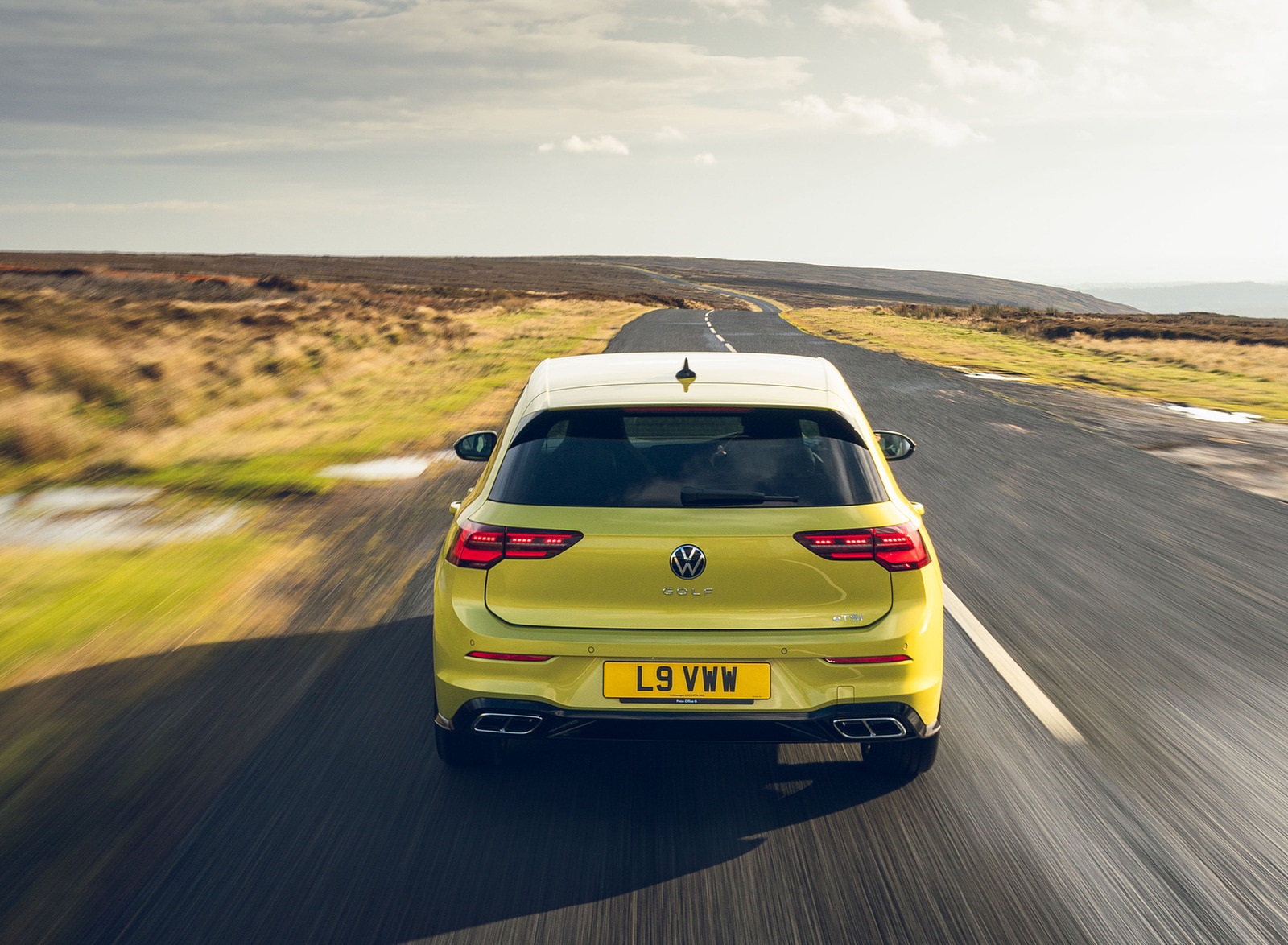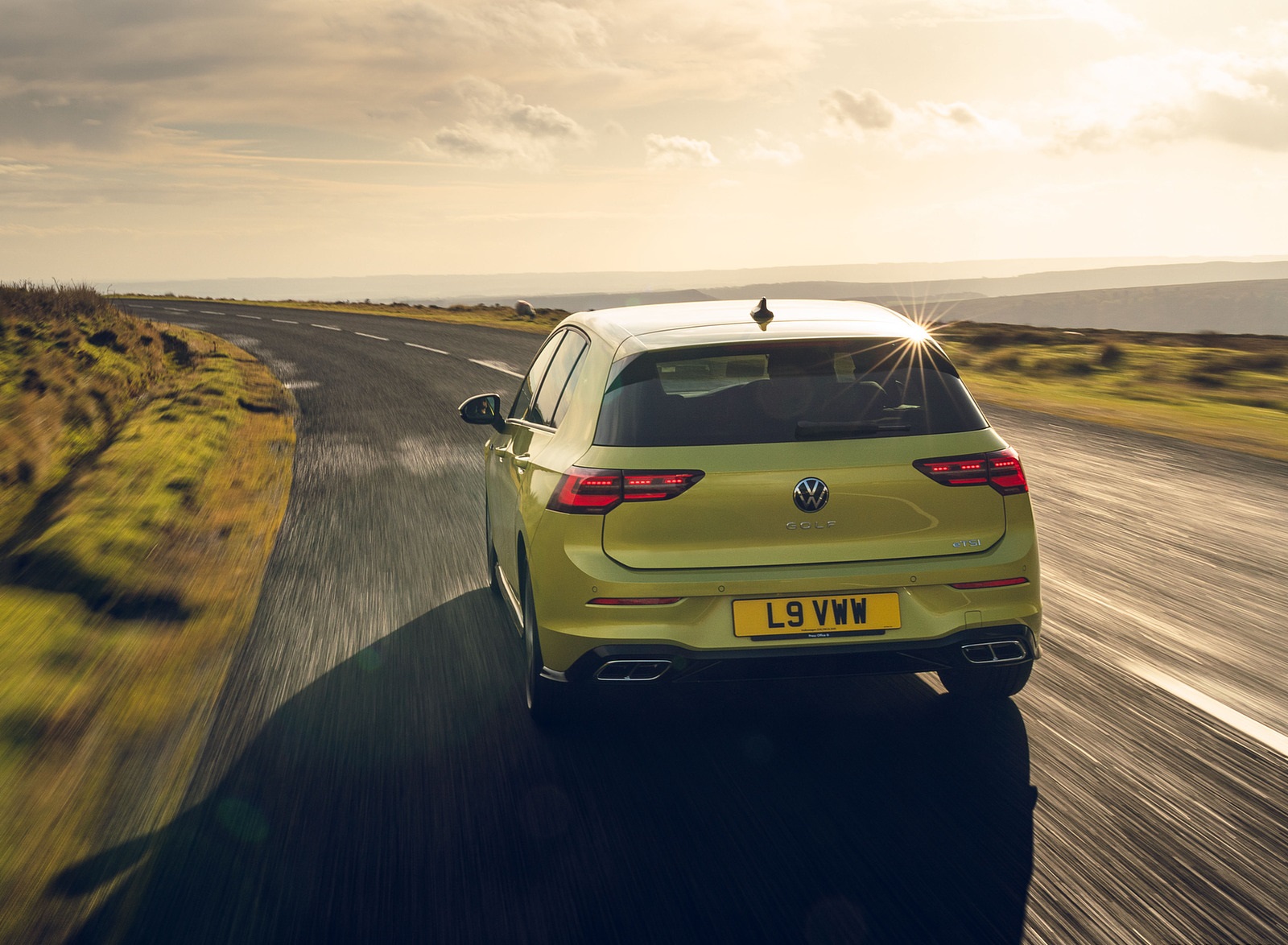 The Golf will, over time, come to have the widest selection of engines in its class, the most efficient of these offering a reduction in fuel consumption by up to 17% compared with the outgoing car. The engine line-up at launch comprises the latest versions of some of Volkswagen's most impressive TSI petrol and TDI diesel units, with the addition for the first time of an eTSI 48 V mild-hybrid option, as well as a 1.0-litre three-cylinder petrol.
With new trim designations in the UK ranging from Life, through Style to the familiar and sporty R-Line designation, the new Golf 8 continues to be, then, what it has been for almost half a century – the classy, classless choice for families who value efficiency, innovation and quality as much as practicality, safety and reliability.
Technical highlights
Today's Golf represents nothing less than a digital revolution in the family car class, with the clear aspiration of creating a new level of interaction between human and vehicle.
New instruments form a crystal clear Innovision Cockpit; online infotainment and navigation systems become interactive; and standard-fit state-of-the-art Car2X communication technology allows the Golf to link up with its environment to warn of local hazards well in advance.
Aside from the Car2X technology present in all new Golfs, several of the car's other systems are not only connected to each other but, thanks to an online connectivity unit (OCU), they are also connected to the world outside the Golf. The standard OCU features integrated eSIM links to Volkswagen's now familiar We Connect and We Connect Plus online functions and services.
But it is Car2X functionality that is, perhaps, the most obvious game-changing feature in the eighth-generation Golf. Indeed, the new Golf is the most important mainstream car yet to have Car2X fitted as standard. As Europe's best-selling model, and a regular feature of the top ten sales list in the UK, the new Volkswagen brings this important technology emphatically to the masses.
Below are some technology and safety equipment highlights that are either standard-fit or are optionally available on the Golf 8:
Car2X – The Golf is the first Volkswagen model to feature Car2X communication. This exciting new system allows the exchange of information between other Car2X-equipped vehicles, as well as the road infrastructure, traffic situation, hazards on the road, and much more. Car2X applies information provided by other vehicles and signals from the traffic infrastructure within a radius of up to 800 metres to warn drivers of hazards. It can also forward these warnings to other Car2X-equipped models. It is fitted as standard to every Golf from market introduction, which is Spring 2020 in the UK, to help set new road safety standards.
Car2X works simply, and extremely effectively. Information is exchanged within milliseconds thanks to the application of a harmonised Car2X standard across the European Union and UK. This standard will, in time, be applied by other manufacturers, too, meaning it will be possible to transfer information between vehicles from different car makers as well as the roadside infrastructure.
In developing Car2X, Volkswagen has opted to use Wi-Fi-based communications rather than connect via the 5G network. The thinking is clear: Wi-Fi car-to-car communication does not require data reception to send and receive information. In contrast, 5G cannot communicate car-to-car in areas without data reception such as when the car is in a tunnel, or travelling in more remote locations.
Car2X communication allows the Golf to register a wide variety of potential hazards ranging from accidents on the road to broken-down vehicles, the tail end of traffic jams, roadworks, emergency braking, and the nearby presence of emergency service vehicles.
Specifically, when emergency service vehicles are detected, the system's hazard alert allows the Golf to provide its driver with targeted, precise information about the distance and direction of approaching Car2X-equipped ambulances, fire engines and police vehicles. This means the driver can react in good time and, if circumstances allow, even pull over to make space for the emergency service vehicle, thus potentially reducing 'blue light' response times. It is possible to equip current emergency service vehicles with Car2X technology.
Vehicles that have broken down or been involved in an accident can also highlight their potentially hazardous situation by issuing a virtual warning triangle that is displayed in other Car2X-equipped vehicles' cockpits. Meanwhile the car's brake lights can also be used by Car2X in a new way. If vehicles driving in front of the new Golf brake sharply, the brake lights of Car2X-equipped models behind it are automatically activated before the brakes are even applied. This means that drivers behind the Golf are best placed to react significantly earlier than they might otherwise do.
Innovision Cockpit – The Golf's new digital instruments form what is a class-leading information system This is fitted to all models across the range and comprises a standard-fit 10-inch display, and online Discover Navigation infotainment system with additional 10-inch touch-screen display. This consistent new digital architecture, with information provided on a single visual axis, also sees light and vision functions redesigned, bundled and made more intuitive to operate. For instance, the car's exterior lighting – as well as the windscreen and rear window demisting functions – are now operated using a digital panel to the right of the instruments. The centre console sees the removal of physical buttons, instead replaced with touch pad sliders for the air conditioning system and infotainment system. A smaller shift-by-wire gear lever for the automatic dual clutch gearboxes (DSG) saves space, while the new roof console now includes a touch slider for the optional tilting and sliding panoramic sunroof. A windscreen head-up display is optionally available to further enhance the range of information on offer.
Intuitive Voice Control – It is possible to interact with the Golf via the "Hello Volkswagen" natural voice control function. The system is activated simply by saying "Hello Volkswagen" or pressing the voice button on the steering wheel. Today's Golf responds with "Yes, please?" or "What would you like to do?" and reacts to intuitive voice commands, such as "Go to Milton Keynes" (navigation) or "I'm cold" (automatic air conditioning). New, digital microphones not only ensure clearer voice recognition and voice quality for phone calls, but also locate the person who is speaking, either the driver or front passenger. For example, the passenger could ask for their heated seat to be switched on and the system would recognise this and only activate the passenger's heated seat. The system allows users to simply and easily control the navigation system, air conditioning system, phone and infotainment system with voice commands; all while keeping their eyes on the road, and both hands on the wheel.
IQ.LIGHT LED matrix headlights – This advanced new system debuted with the launch of the current Touareg, but is now available on a Golf for the first time. With interactive light technology these headlights significantly improving driving safety at night by optimising light output while avoiding dazzling oncoming drivers. One of three available LED headlight versions, this optional top-of-the-range system is activated by the driver via Dynamic Light Assist. Using 22 LEDs per each headlight matrix module it offers up to ten different, partly interactive, light functions and projects them onto the road surface ahead. The sweeping indicator function of the IQ.LIGHT LED matrix headlights is another first for this iteration of Golf, and is proven to have a positive effect on active safety by virtue of its striking looks. The variety of lighting formats on offer via the system includes: dipped headlight; main beam (activated on the basis of speed); cornering light (activated on the basis of steering wheel angle or turn signal, or when reversing); poor weather light (activated by the Golf's driver); motorway light (activated on the basis of speed and GPS data); dynamic cornering light in City Light, dipped headlight, motorway light, main beam and partial main beam (activated on the basis of steering wheel angle); sign glare control (activated on the basis of dazzling sensors in the front camera); City Light (activated on the basis of speed and GPS data); partial main beam (activated on the basis of dazzling sensors in the front camera) and travel mode (switching between left-hand and right-hand traffic, activated by driver in the Vehicle menu). With IQ.LIGHT specified, the Golf's brake lights also feature a striking switchover function between LED signatures – a so-called 'click-clack' effect – while sweeping indicators of course also feature at the rear of the car.
Windscreen head-up display – A first in class for this Golf – important information such as speed or navigation instructions are clearly shown in the driver's field of vision. The head-up display is projected onto the windscreen and appears to float virtually in front of the driver, enabling drivers to keep their eyes on the road.
Mobile key – Using Volkswagen's We Connect system as an interface, compatible Samsung smartphones are capable of functioning as the Golf's 'key' via the We Connect app. Via their mobile phone, owners can unlock, lock and start the car. No mobile network connection is required to use the smartphone as a mobile key. Owners just need to place their smartphone near the door handle, in the same way as the keyless locking and starting system Keyless Access opens the vehicle. Once inside, putting the smartphone in the centre console (in the storage compartment with interface for mobile phone) allows the car to be started. In due course, it will also be possible to send the mobile key function to friends or family so that they can also use their smartphone as a key.
Travel Assist – Having debuted in 2019 on the enhanced Passat, Travel Assist now features on the new Golf and allows Level 2 driving automation at speeds well in excess of the UK limit, functioning at up to 130 mph. The system supports the driver with intelligent, active steering, acceleration and braking and appears here for the first time in a compact-class Volkswagen. Without having to actively steer, accelerate or brake, the Golf's driver is significantly supported by Travel Assist, particularly on long journeys. The feature cleverly combines the functions of existing systems such as ACC Adaptive Cruise Control (longitudinal guidance) and the Lane Assist lane keeping system (latitudinal guidance). The system can now recognise kerbs and grass verges in addition to painted lines on the road. It is activated using the multifunction steering wheel while, for legal and safety-related reasons, drivers must permanently monitor the system – meaning that they must have at least one hand on the steering wheel. Thanks to new capacitive sensor technology in the steering wheel, the driver has merely to touch the wheel. If the system calculates that they have let go for more than 15 seconds then visual and audible warning signals, and a braking jolt, act as a warning to regain control. The driver must react by this point and touch the steering wheel, otherwise Emergency Assist is activated and the Golf is brought to a stop.
Dynamic Chassis Control (DCC) – Optionally available on the Golf, DCC responds continually to changing driving situations and takes braking, steering and acceleration into account. The required damping is calculated for each wheel and adjusted at the four shock absorbers within fractions of a second. The vehicle set-up can also be extended in 'Individual' mode beyond the existing range of 'Comfort', 'Eco' and 'Sport' modes. Using a new digital slider, the driver can individually and precisely set and store their exact preference. The slider also continuously influences the lateral dynamics of the Golf via DCC and XDS (electronic differential lock), so it is now also possible to apply intermediate settings in between the familiar modes. The Golf also offers additional new adjustments, exceeding the capabilities of previous systems. So, beyond the 'Comfort' setting the body is "decoupled" from the road surface as much as physically possible, while at the other extreme after 'Sport' mode there is an additional adjustment range that features maximum damping for minimum body movement and exceptionally direct vehicle reactions.
Harman Kardon sound system – Another new option is the 480-watt Harman Kardon sound system with 12-channel Ethernet booster and 10 speakers. With one treble speaker (60 mm diameter) in the A-pillars and rear door trim, and a bass speaker (168 mm) in the front and rear door trim panels on each side of the vehicle, the speakers offer the best sound quality yet offered in any Golf. A centre speaker (116 mm), meanwhile, is added to the dash panel at the front, with a large subwoofer (457 mm in diameter) fitted into the spare wheel well.
ACC with predictive speed detection – Adaptive Cruise Control in the new Golf is now predictive. This means the system calculates the position of the Golf based on route and GPS data from the navigation system to lower its speed before reaching bends, roundabouts, junctions, speed limits and built-up areas. At the same time, ACC accesses the Dynamic Road Sign Display via the front camera and adjusts the speed as soon as a limit has been detected. However this latter feature can be disabled by the driver should they wish.
Front Assist – The familiar Front Assist system now offers new functionality in Golf 8. The area monitoring system, using a radar sensor and in conjunction with the front camera, warns and brakes in emergency situations using the City Emergency Braking System and Pedestrian Monitoring functions, and operates even at very low speeds in built-up areas. In new Golf, this is augmented by the addition of Cyclist Monitoring.
New interior background lighting – Today's Golf comes as standard with interior background lighting that can be set to one of ten different colours. The selected colour illuminates the decorative trim in the dash panel, decorative door trim at the front and rear, storage compartments in the four doors, front footwells (also rear footwells from the Style trim up) and central storage compartment in the front centre console. The Golf's digital instruments and infotainment system also take on the selected background colour. For those who desire even greater personalisation, 30-colour background lighting is also available as an option. Along with the individual colours – variably adjustable for different interior zones – pre-configured lighting profiles can be selected by simply touching a "mood menu": for example, 'Infinity' for a warm orange or 'Desire' for a cool blue shade.
Trim levels and equipment
The new Golf arrives in the UK with a single five-door hatchback bodystyle and a new line-up of three trim designations: launching in entry-level Life, Style and the familiar R-Line formats.
Life – The entry-level Golf, adding significantly more standard features than were available in its predecessor. Life is expected to be the biggest-selling trim for the new Golf in the UK, and it is easy to understand why. Among its many highlights are Lane Assist; Front Assist with City Emergency Braking System and predictive pedestrian monitoring; Car2X local communication with other vehicles and the traffic infrastructure; Volkswagen's Innovision Cockpit (which incorporates Digital Cockpit Pro with 10-inch screen in the car's instrument binnacle and the Discover Navigation infotainment system with 10-inch colour touchscreen); We Connect and We Connect Plus mobile online services and functions; LED headlights; LED reading lamps; and two USB-C ports in the glove compartment. Sitting on 16-inch 'Norfolk' alloy wheels, the Golf Life is offered with the 1.0-litre TSI 110 PS petrol engine, 1.5-litre TSI EVO petrol engine in 130 PS or 150 PS guises, or with the 2.0-litre TDI 115 PS diesel. All three engines are mated as standard to a slick-shifting and precise 6-speed manual gearbox. A new, sophisticated mild-hybrid (MHEV) 1.5 eTSI MHEV 150 PS unit – the first such engine to appear in a Volkswagen Golf – is also available in the Life trim range. This turbocharged petrol engine is coupled to a 48 V system, and available only with a 7-speed DSG automatic transmission.
Style – Move up to Style, and the range of equipment, design features, and drivetrain options becomes even richer. Sitting on 17-inch 'Belmont' alloy wheels, the new Style models build on the equipment seen in Life specification with the addition of front sports seats; bespoke interior trim and upholstery; 3Zone Climate Control; 30-colour ambient lighting; door mirror puddle lights and LED 'Plus' headlights including cornering function and poor weather lighting, among much else. There are also front footwell illumination, High Beam Assist and a variety of exterior design upgrades along with 'Style' exterior badging. Golf Style models are offered with the same engine line-up as Life-spec cars, with the exception of the 1.0-litre TSI 110 PS petrol engine. However, a potent 2.0-litre TDI EVO unit is an addition to Style trim, offering up to 150 PS, and mated as standard to a 7-speed DSG transmission.
R-Line – The most overtly sporty new Golf available until the performance models arrive, the R-Line brings yet more dynamic styling and generous levels of equipment to the range. Further enhancing the Style specification, R-Line adds Driving Profile Selection; 17-inch 'Valencia' alloys wheels in Metallic Grey; lowered sports suspension; R-Line exterior styling pack; rear privacy glass; chromed pedals and Carbon Grey styling accents on the interior trim; R-Line door and side panel trims; R-Line sports front seats with integrated head restraints finished in 'Sardegna' cloth; a bespoke R-Line heated steering wheel and progressive steering technology. R-Line models will be available with the same range of engines and transmission options as those offered to Golf 8 Style customers, with the exception of the 115 PS 2.0-litre diesel engine.
Engines, transmissions and running gear
Three petrol engines with 110 PS, 130 PS or 150 PS
1.0 TSI EVO 110 PS – The entry-level 1.0-litre 110 PS turbocharged three-cylinder petrol engine features the efficient TSI Miller combustion process and utilises a turbocharger with variable geometry. It offers peak power of 110 PS at 5,500 rpm and an impressive 200 Nm of torque between 2,000 and 3,000 rpm. These outputs provide a 0-62 mph time of 10.2 seconds and a top speed of 126 mph (where permitted). On the combined WLTP cycle fuel economy is rated between 49.6 and 53.3 mpg, while CO2 emissions equate to 121-129 g/km, depending on optional equipment fitted. This engine is available only on Life trim with a 6-speed manual gearbox.
1.5 TSI EVO 130 PS – The 1.5-litre 130 PS turbocharged four-cylinder petrol engine, like its more powerful sibling, is equipped with Active Cylinder Technology (automatic deactivation of two cylinders under certain load conditions). This 130 PS version also features the efficient TSI Miller combustion process with variable turbocharger geometry. It provides 130 PS between 5,000 rpm and 6,000 rpm, while the flat-topped torque curve sees the maximum figure of 200 Nm available between 1,400 rpm and 4,000 rpm. With this engine, the Golf's top speed is 133 mph, and the 0-62 mph time is 9.2 seconds. Economy on the combined WLTP cycle ranges between 49.6 and 52.3 mpg, with CO2 emissions between 122-130 g/km depending on optional equipment fitted. This engine is available exclusively with a 6-speed manual gearbox.
1.5 TSI EVO 150 PS – This more potent 1.5-litre 150 PS turbocharged unit has four cylinders and also features Active Cylinder Technology. Power peaks at 150 PS between 5,000 rpm and 6,000 rpm, and the maximum torque figure of 250 Nm is available from just 1,500 rpm up to 3,500 rpm. This engine is only available with a 6-speed manual gearbox and powers the Golf to a top speed of 139 mph, with a 0 to 62 mph sprint time of 8.5 seconds. Economy on the combined WLTP cycle is measured between 47.1 and 51.4 mpg with CO2 emissions between 125-136 g/km depending on equipment level and options.
One eTSI mild-hybrid petrol engine with 150 PS
1.5 eTSI MHEV 150 PS – The first mild-hybrid (MHEV) engine to appear in a Volkswagen Golf, this four-cylinder turbocharged petrol engine is coupled to a 48 V system. A 48 V belt starter generator, 48 V lithium-ion battery and the latest generation of pioneering, efficient TSI engines deliver strong performance while significantly cutting fuel consumption compared with the outgoing petrol version in the Mk 7 Golf. The new eTSI Golf also features brake energy recuperation, and the 48 V system makes it possible to coast with the combustion engine switched off. Relatively small cable diameters, and therefore low wiring loom weight, enable the efficient transmission of electrical power.
Energy stored in the 48 V lithium-ion battery supplies the Golf's conventional 12 V electrical system and also drives the 48 V belt starter generator. This takes on the role of alternator and starter, while simultaneously operating as a small, lightweight electric motor that boosts torque from stationary starts, making the 1.5 eTSI feel particularly sprightly. With this engine, power peaks at 150 PS between 5,000 rpm and 6,000 rpm, while maximum torque of 250 Nm is available between 1,500 rpm and 3,500 rpm. The eTSI's top speed is 139 mph, and 0-62 mph takes 8.5 seconds. Economy on the combined WLTP cycle is measured between 44.8-49.6 mpg and CO2 between 130-142 g/km, depending on model specification. The only transmission available on eTSI engines is a 7-speed DSG.
Two diesel engines with 115 PS or 150 PS
2.0 TDI 115 PS – The entry-level turbodiesel engine in today's Golf might, not so very long ago, have been among the range-topping offerings, so great is the pace of the model's development. This 2.0-litre TDI four-cylinder engine produces its 115 PS power peak from between 3,250 rpm and 4,000 rpm, while torque peaks at 300 Nm between 1,600 rpm and 2,500 rpm. Mated to a 6-speed manual gearbox, this produces a 0-62 mph time of 10.2 seconds and a top speed of 126 mph. Fuel economy measured on the WLTP combined cycle ranges between 62.8-68.9 mpg, with a CO2 figure of 108-118 g/km depending on equipment fitted.
2.0 TDI 150 PS – The larger output four-cylinder turbodiesel engine in the Golf – a 2.0-litre TDI with power of up to 150 PS (3,500 to 4,000 rpm) – is an extremely efficient unit. It develops its maximum torque of 360 Nm from a low 1,600 rpm (up to 2,750 rpm). When combined with the 7-speed DSG, this Golf 8 has a top speed of 139 mph and accelerates from 0 to 62 mph in 8.8 seconds. Its high performance contrasts with its low fuel consumption which, when measured on the WLTP combined cycle, ranges between 60.1-62.8 mpg in 7-speed DSG format, with a CO2 figure stated between 117-121 g/km depending on optional equipment specified. This engine is not available on Life trim level cars, only on Style and R-Line.
Twin-dosing – This new technology, first introduced in the Passat, features in both of the Golf's diesel engines. It features dual AdBlue injection, significantly increasing efficiency. AdBlue is injected upstream of two SCR catalytic converters arranged in series, with the result of cutting emissions of nitrogen oxides (NOX) by up to 80% compared with the previous generation engines.
Two gearbox options
6-speed manual gearbox – The manual gearbox in the Golf 8 is a 6-speed unit, offering smooth shifts and improved fuel efficiency. Volkswagen manual gearboxes are also filled with lifetime oil and therefore need no routine maintenance.
7-speed DSG – The DSG (Direct Shift Gearbox) dual-clutch transmission, available only as a 7-speed in the Golf 8 at launch (Spring 2020), is familiar to many. However, for the first time in a Golf, the new gearshifts are now fully electronically controlled, the system managing them using shift-by-wire. This means the physical gear knob is significantly smaller than before and gear shifting is smoother. For example, with shift-by-wire, if the driver is manoeuvring and requires reverse while still moving forward the system will judge when to make the shift at the moment the speed is right for a smooth shift. This also prevents incorrect operation and damage to the gearbox occurring as a result of user error.
Running gear
Dynamic Chassis Control (DCC) – As mentioned in the technology highlights section, the new Golf features a new driving dynamics control system, which includes a major evolution of DCC – optional on all trims. This significantly increases the spread between maximum comfort and maximum dynamics, with the result that the Golf can benefit from significantly sharpened driving dynamics.
Driving dynamics manager – In the eighth-generation Golf Volkswagen has introduced a new handling control system so that now both the XDS function and the lateral dynamics components of the regulated dampers (the optional DCC system) are controlled by the driving dynamics manager. Simply put, the driving dynamics manager supports selection of the right control system at the right time for any driving manoeuvre. This helps to ensure the XDS and DCC systems work together efficiently and effectively.
The Golf's handling and steering behaviour are much more precise now, too, thanks to the use of the enhanced optional DCC and XDS functions. Roll is reduced and damped more effectively, while the new Golf responds perceptibly faster to the driver's steering commands.
Front axle
The MacPherson front axle with lower wishbones and track-stabilising scrub radius ensures optimal handling and steering. In combination with the adaptive chassis control (DCC), a front subframe formed from extremely rigid aluminium (around three kilos lighter than in the outgoing car) further improves driving dynamics. Meanwhile, a weight-optimised tubular anti-roll bar further reduces body roll. Rubber mounts are directly vulcanised onto this anti-roll bar to help deliver optimal acoustics as well as outstanding dynamic responses for a car in this class. Bonded rubber mountings of the transverse links have been optimised for enhanced comfort and higher steering precision.
Two rear axles
A torsion beam is used at the rear for all front-wheel drive Golf models with a power output of less than 150 PS. Models with 150 PS or more feature multi-link rear suspension.
The modular light-weight torsion beam axle comprises a transverse profile open at the bottom, into which an insert plate is welded on each of the outer ends. Different torsion rates are delivered via differences in the length of the insert plates. This approach saves weight, while a transverse profile that is open at the bottom also optimises roll behaviour and transverse rigidity. The locating mounts are designed as hydro-bushes to increase driving comfort and reduce road noise inside the cabin.
For Golfs of 150 PS and above, the McPherson front axle is paired with a multi-link arrangement at the rear. The main focus here is on kinematics, acoustics, weight and modularity. The axle's low longitudinal rigidity is generated by the soft axle locating mount of the trailing arm, to further increase driving comfort. The kinematic and elastokinematic axle characteristics have been revised versus those of the previous Golf, with modified transverse link mounts and newly-designed hub carriers significantly improving steering precision and driving stability. The track and camber values are set individually as required for each vehicle type via eccentric bolts on the spring link and upper transverse link. The connection of the tubular anti-roll bar and shock absorber at the spring link is a key design feature, since it successfully reduces the forces within the axle.
Two steering systems
A steering rack with linear ratio is used as standard in Golf 8, while Volkswagen's Progressive Steering system is available as an option on Life and Style models. In comparison with its predecessor, the ratio of the standard rack is now noticeably more direct (i = 14.6 instead of 15.0), reflecting the smaller steering angle requirement and allowing more direct vehicle response.
The Progressive Steering system – standard on R-Line trim – features an even more direct on-centre ratio (i=14.1) and results in just two steering wheel turns from lock to lock. New algorithms have been established in the software of both systems to enhance dynamic response.
Meanwhile, depending on trim or option choices, today's Golf features wheels of between 16 to 18 inches. Original equipment tyres have been developed for low rolling-resistance and balanced acoustic properties as well, of course, as driving comfort and optimum dynamics. To maximise steering precision, vehicle response and driving stability the rim width (flange-to-flange dimension) has been increased by half an inch on 16- and 17-inch wheels. These wider wheels ensure faster and significantly more linear tyre responses.
MQB platform
The Golf 8 sits on the latest version of Volkswagen's supremely flexible MQB platform. The Golf was the brand's first MQB (Modular Transfer Matrix) car in 2012, since when myriad models have been developed on this extremely flexible technical matrix.
MQB underpins the global success of Volkswagen and, around the world, models that have sold millions of units such as the Passat, the US American Jetta and the successful Lavida and Sagitar in China, all use the technology.
SUVs including the Tiguan, T-Roc and the US model, Atlas, also benefit from the platform. In 2018, more than 3.4 million Volkswagen vehicles were built on the MQB while, across the Volkswagen Group, that number grows to around 5.1 million in the same year.
Design
The Golf's design has always been considered a benchmark in terms of form and function – and so it is with the eight-generation car, which benefits from the model's carefully crafted design DNA. The new car is unmistakably a Golf, but the most progressive of all time.
For seven generations and over almost half a century the Golf's design has been enhanced, refined and in parts reinvented. Klaus Bischoff, Head of Volkswagen Group Design, said: "The new Golf is an indicator of the present – this is what's possible nowadays within the volume segment. Its design represents the evolution of millions of people 'feeling at home'."
Adeptly merging everyday usability with clear-cut, accurate design, the new Golf is a prime example of aesthetically optimised design and function.
Externally, the dominant design element is the C-pillar: a distinctive element of this and every Golf since 1974. It makes the body look dynamic towards the front, concentrates it towards the rear and transfers the iconic shape of the original Golf into the present.
Klaus Bischoff: "The new Golf morphs into a sculpture of space, aerodynamics and aesthetics." The ideal ratio of greenhouse (roof section plus glass panels) and body (lower section from the window line) also lends the new Golf a strong presence, while the deep-drawn roof line adds an authentic, sporty character.
Dimensions and aerodynamics
Even though the Golf 8 does not seem as tall as its predecessor, appearing more stretched and dynamic, its compact dimensions have been maintained: 4,284 mm long, 1,789 mm wide and 1,491 mm high. The wheelbase totals 2,619 mm.
Every part of the body has been reshaped and refined in the wind tunnel. The car's frontal section has been lowered to 2.21 m2 and the drag coefficient (Cd value) cut to 0.275 from 0.3. These more advanced aerodynamics have been achieved through a range of adjustments including a generally more aerodynamic design, Cd-optimised exterior mirrors, aerodynamic corners and spoiler in the rear roof section, extensive underbody panelling, and aerodynamically optimised features in the wheel housing liners with displacement elements at front, spoiler at rear.
Crucially, practicality has not been sacrificed. The Golf 8 remains a capacious five-seat all-rounder. Even on long journeys, the new Golf offers plenty of room for five people, along with a 381-litre luggage compartment capacity in this seat configuration. When the asymmetrically foldable rear seat backrest is folded down, the load capacity increases to a maximum of 1,237 litres.
Market information
The three trim levels available for the new car: Life, Style and R-Line; are broadly comparable to SE, GT and R-Line in the previous Golf
In other markets a 'Golf' trim level is available and sits below Life trim as the entry-level specification. There are currently no plans to introduce this trim level to the UK market
It is predicted that around 35% of Golf 8 sales will be retail and 65% fleet, which is roughly in line with the previous model
The most popular Golf in the new range is predicted to be the 1.5 TSI EVO 130 PS with a 6-speed manual gearbox in Life trim
The world premiere of the Golf 8 took place in Wolfsburg during October 2019. The 1.5-litre petrol and 2.0-litre diesel engines went on sale in the UK in Life and Style trim in February 2020, while a month later R-Line trim and eTSI powertrains opened for order. The first cars arrived in the UK in late March 2020
The new mild-hybrid 48 V eTSI drive system will be available in the UK with three outputs: 110 PS, 130 PS and 150 PS, all fitted with DSG as standard. The 150 PS version is already on sale, while the other two outputs will become available later in the year and complete the standard Golf engine line-up
The Golf GTI, GTE and GTD were revealed in February 2020, and are expected to go on sale in the UK later this year. Information on the forthcoming Golf R and Golf Estate will also be revealed in the coming months
Servicing and warranty
Volkswagen offers customers a choice of servicing regime for their Golf. They can choose Fixed Service or Flexible Service and the appropriate selection is dependent on how the car is likely to be driven and its general use.
The Fixed Service regime is recommended for vehicles that will cover less than 10,000 miles in 12 months and if the vehicle is likely to be used in the following ways:
Predominantly urban driving, short journeys with frequent cold starts
Activities regularly producing high engine loading – for example frequent hill climbs, driving with vehicle fully loaded and towing
Driving with high rpm, hard acceleration and heavy braking
Flexible Service is recommended for vehicles with a daily mileage of more than 25 miles, where the vehicle is driven regularly and on mainly longer distance journeys. The vehicle should be mainly driven at a constant speed with minimum vehicle and engine loading, minimal towing and driven in an economical manner.
In this case, the on-board computer informs the driver via a dashboard display, when the vehicle needs a service. A range of engine sensors monitors electronically the vehicle's oil temperature, oil pressure, oil level and brake pad wear to establish when a service is needed. With the Flexible regime, the vehicle can cover typically between 10,000 and 20,000 miles (approx) or 24 months (whichever is sooner) between oil changes.
Customers can choose between Fixed and Flexible at PDI (pre-delivery inspection) and though it is possible to change from one to another during the vehicle's lifetime, it can be done only when a full inspection service is due.
Warranty
The Golf has a three-year (first- and second-year manufacturer operated, third-year retailer-operated) / 60,000-mile mechanical warranty. In addition, it comes with a 12-year body protection guarantee, three-year paint warranty and a year's membership of Volkswagen Assistance, which includes European breakdown cover. The latter can be extended at minimal cost to the customer.
Technical data
View the complete gallery
Share your Thoughts!