2021 Mercedes-AMG GLB 35
With a striking design, exciting driving dynamics and space for up to seven occupants, the new Mercedes-AMG GLB 35 is an unrivalled entry in the compact SUV segment. A spirited drive is guaranteed thanks to the turbocharged 2.0-liter four-cylinder engine developing 302 hp, in addition to the AMG SPEEDSHIFT DCT 8-speed transmission and the variable AMG Performance 4MATIC all-wheel drive. Acceleration from 0-60 mph takes only 5.1 seconds. All of this dynamic performance also comes with the advantages of an SUV: raised seating position, plenty of space for passengers and luggage and well-balanced off-road abilities.
"With the new GLB 35 4MATIC we are extending our product portfolio by adding a highly attractive model for an active target group that attaches special importance to versatility. This also includes the optional seven-seater capability of our new compact SUV, though without having to sacrifice the genes typical of an AMG. Because in its segment, our GLB 35 likewise fulfills our brand promise of Driving Performance," says Tobias Moers, CEO of Mercedes-AMG GmbH.
Responsive and powerful: the AMG 2.0-liter 4-cylinder in-line turbocharged engine
Thanks to a twin scroll turbocharger, the AMG-enhanced 302 hp 2.0-liter engine impresses with its quick response to accelerator inputs and high torque (295 lb-ft from 3000-4000 rpm). The crankcase is made of high-strength, lightweight die-cast aluminum and reduces overall vehicle weight. The exhaust turbocharging combines quick response at low engine speeds with a strong power increase at higher speeds. The engine also showcases a variety of technical innovations, such as CAMTRONIC variable valve control for lower fuel consumption. Intelligent thermal management ensures a faster and more efficient warm-up of the engine and oil. The compact piezo injectors also deliver fuel precisely for increased efficiency.
Fast and agile: AMG SPEEDSHIFT DCT 8-speed dual clutch transmission
The transmission is optimized for quick gearshifts and a sporty driving style, as well as comfort-oriented gearshifts for relaxed journeys. During upshifts, partial ignition interruption produces a sporty sound experience, while the double-declutch function during downshifts improves shifting comfort. This function synchronizes the engine and transmission speeds, minimizing unwanted gas cycle responses and stabilizing the vehicle.
The new Mercedes-AMG GLB 35 displays its full acceleration potential with the standard RACE START function. Higher engine rpms from a standstill, combined with optimized shift points, produces the best possible traction and maximum acceleration. RACE START remains active while the accelerator is kept fully depressed.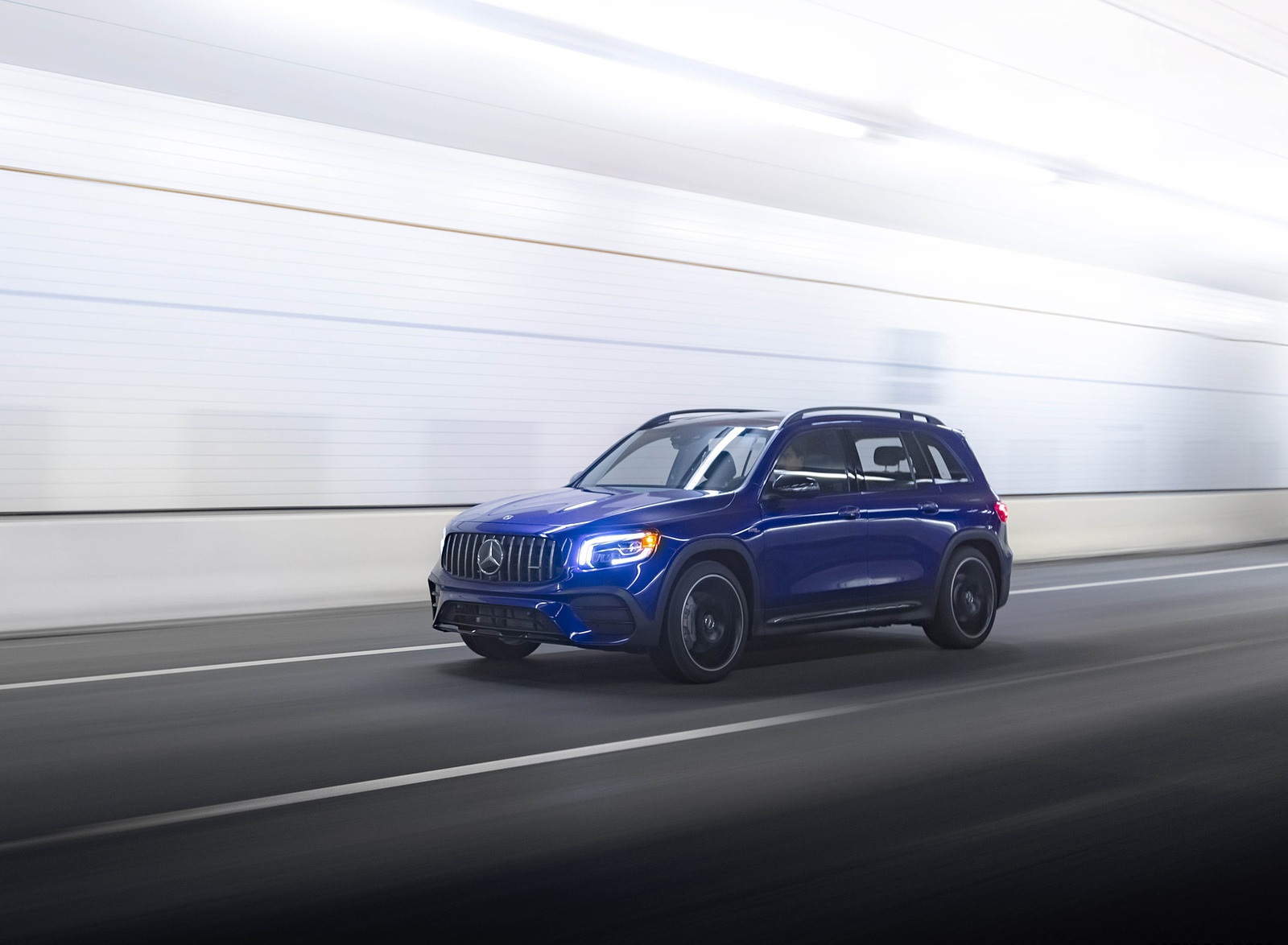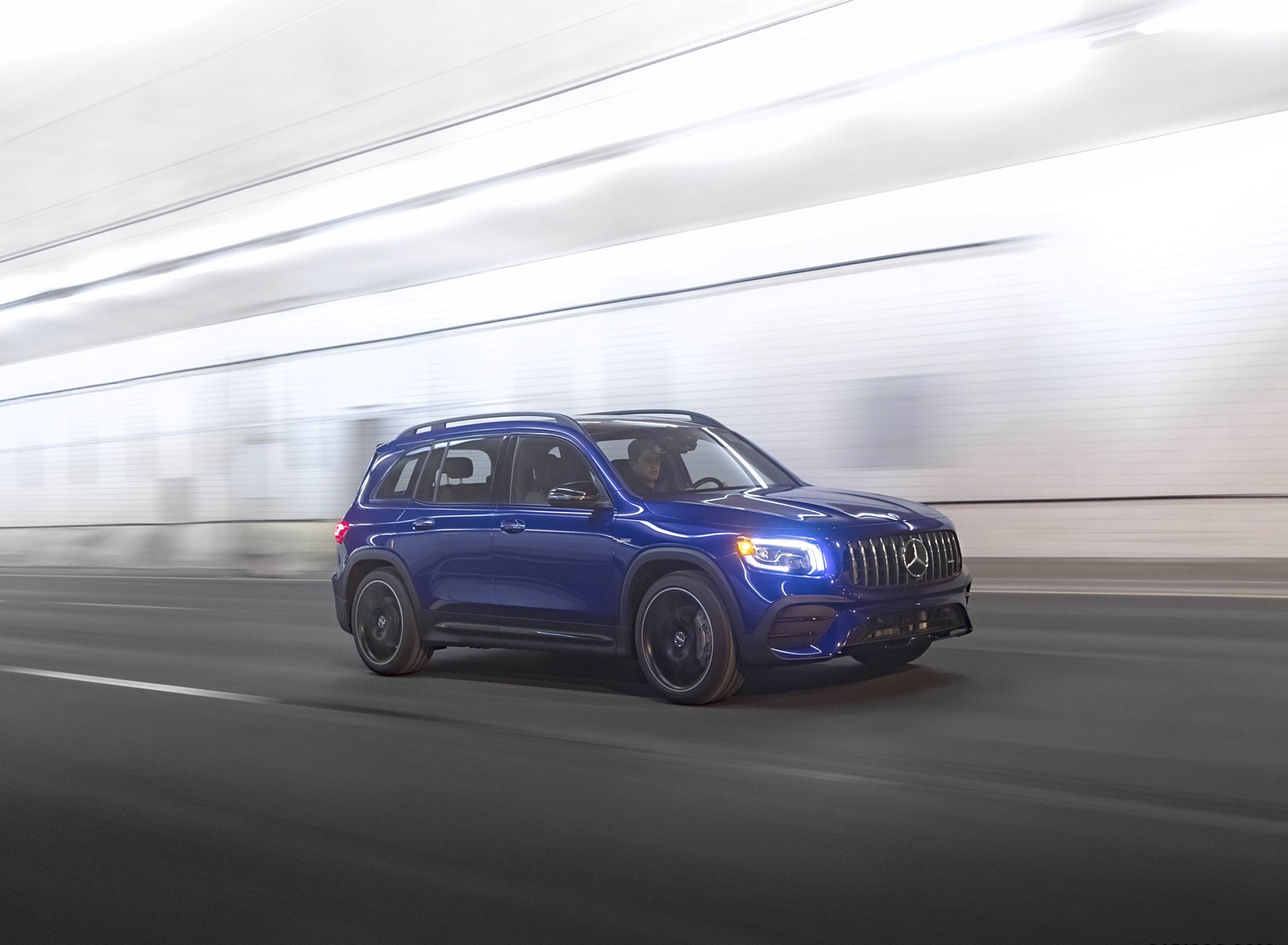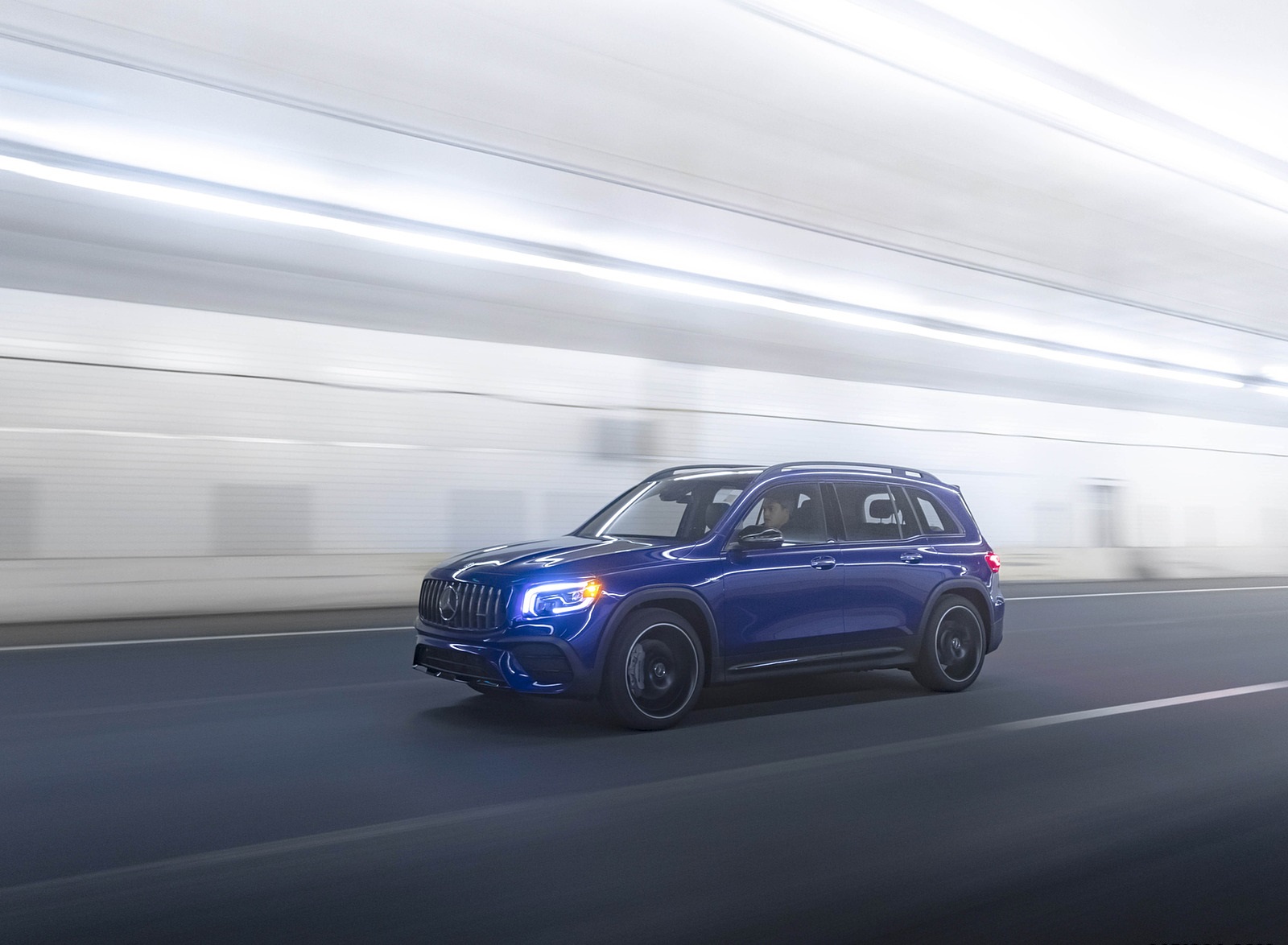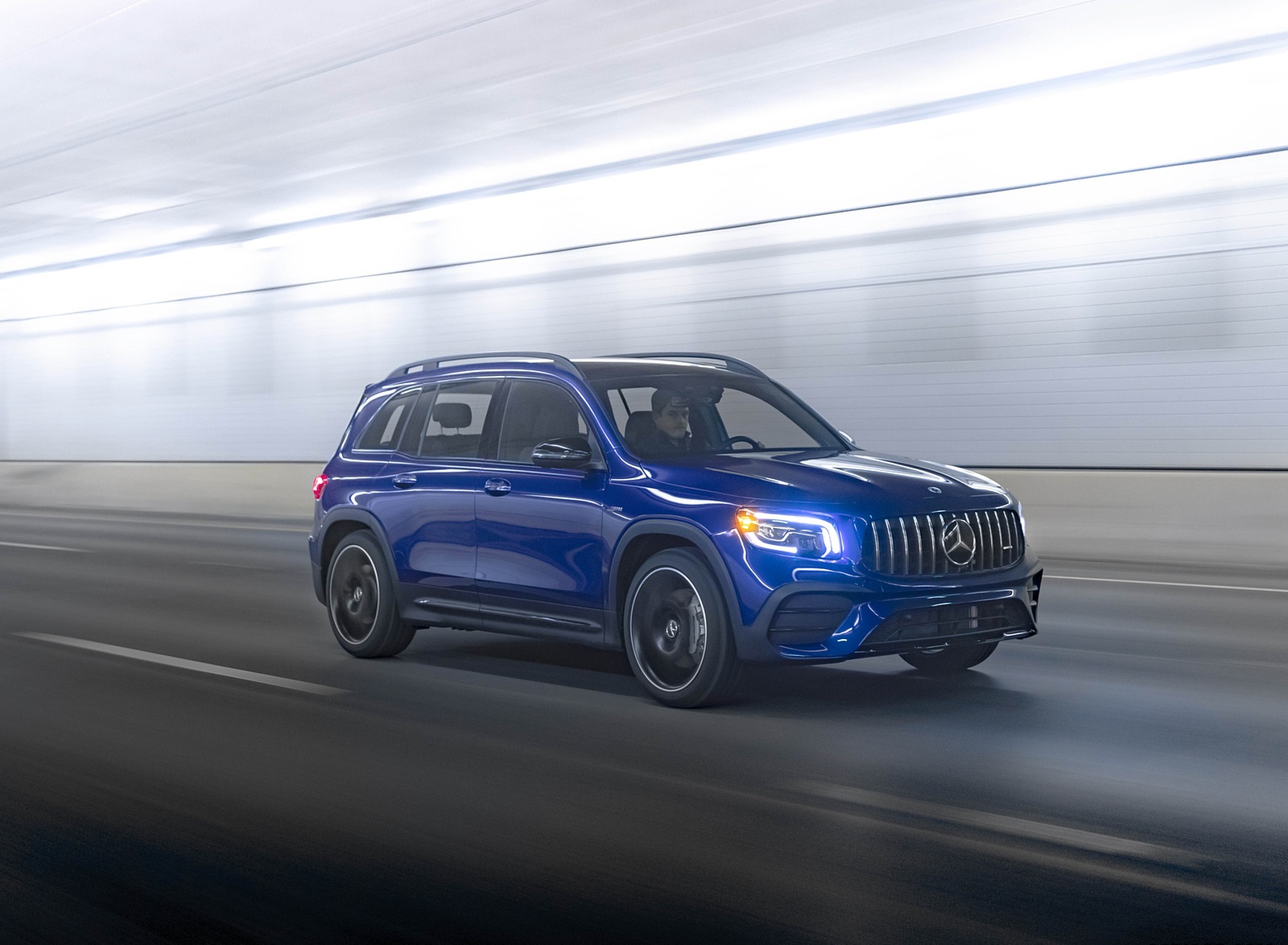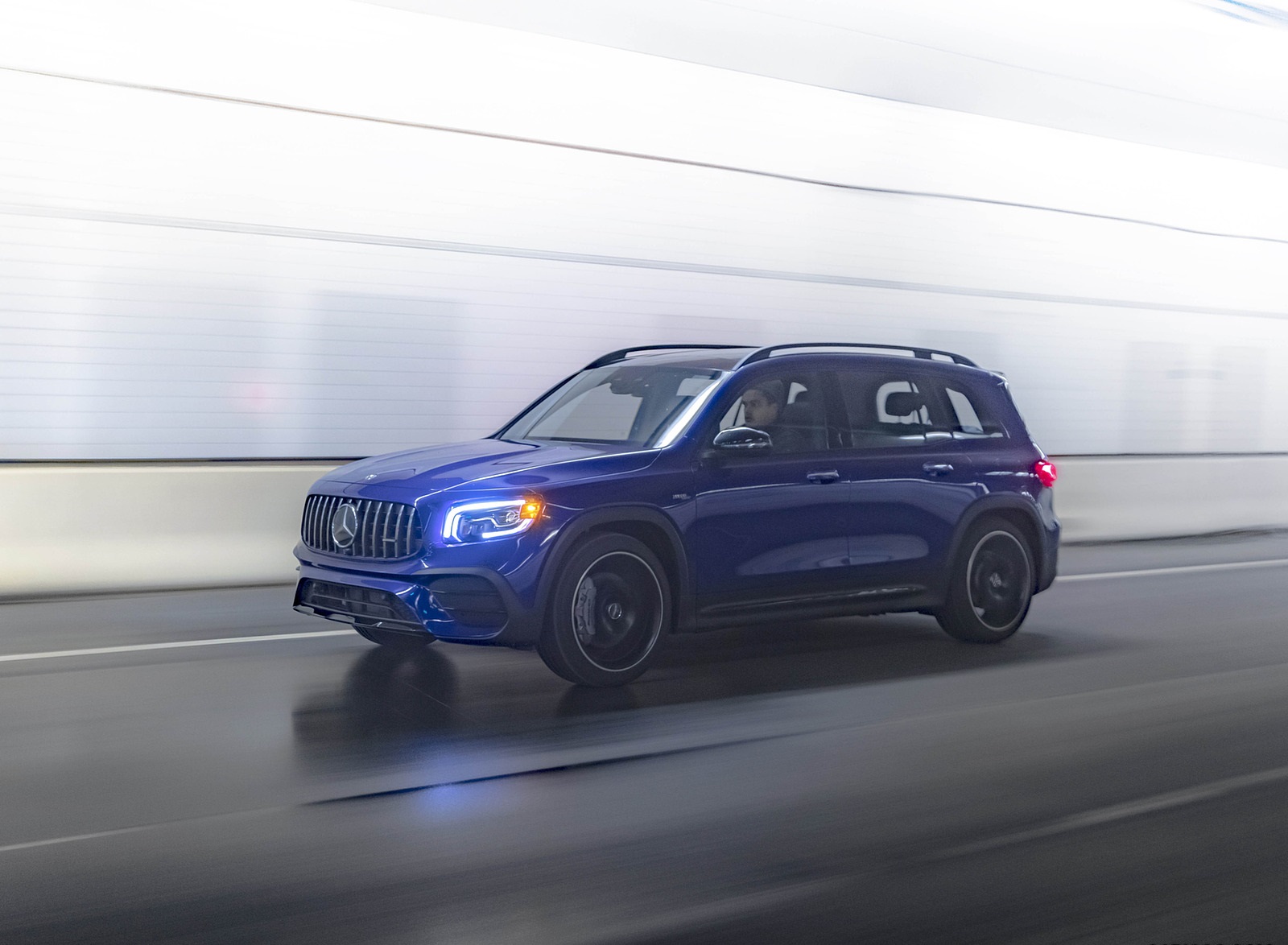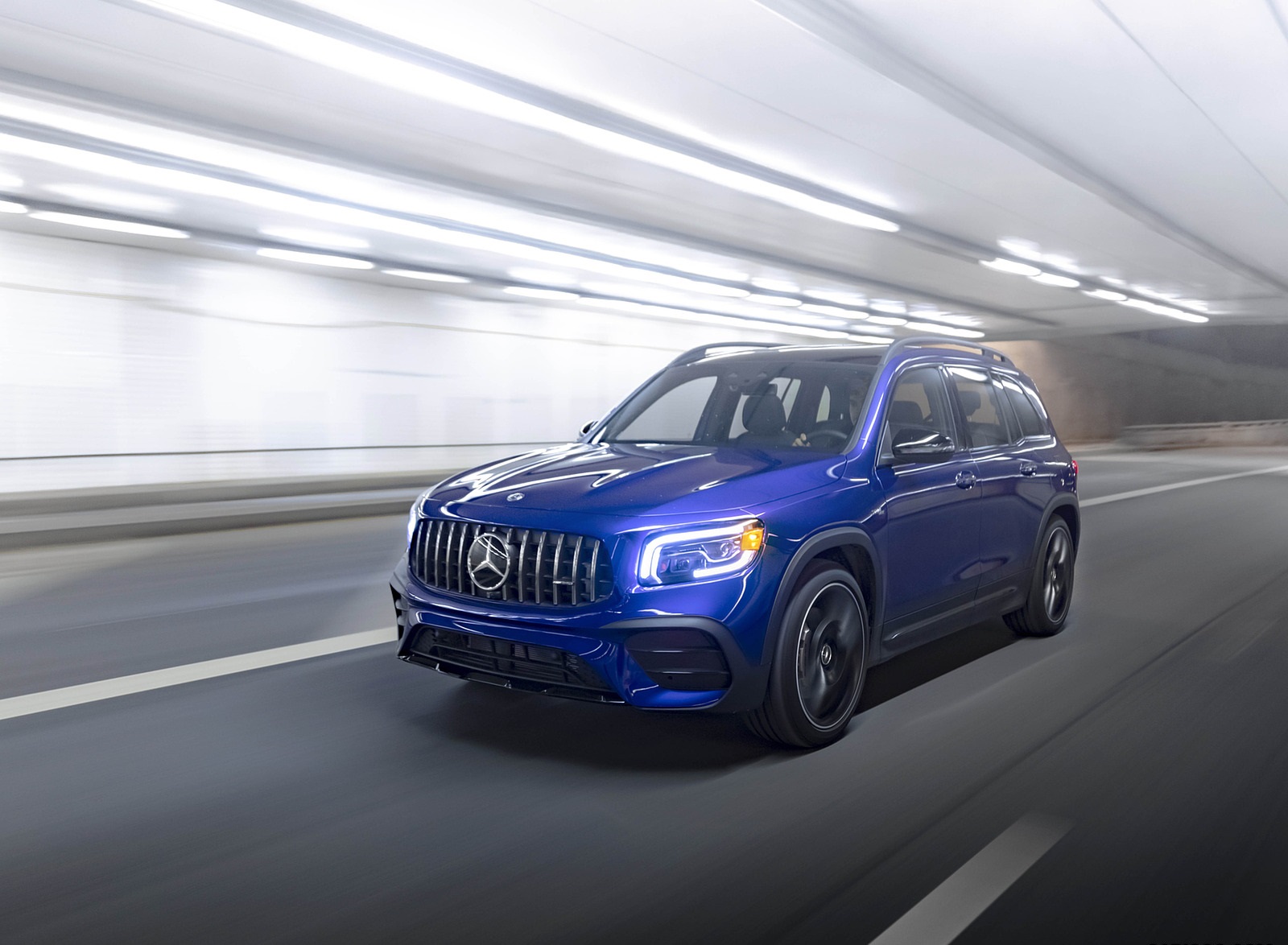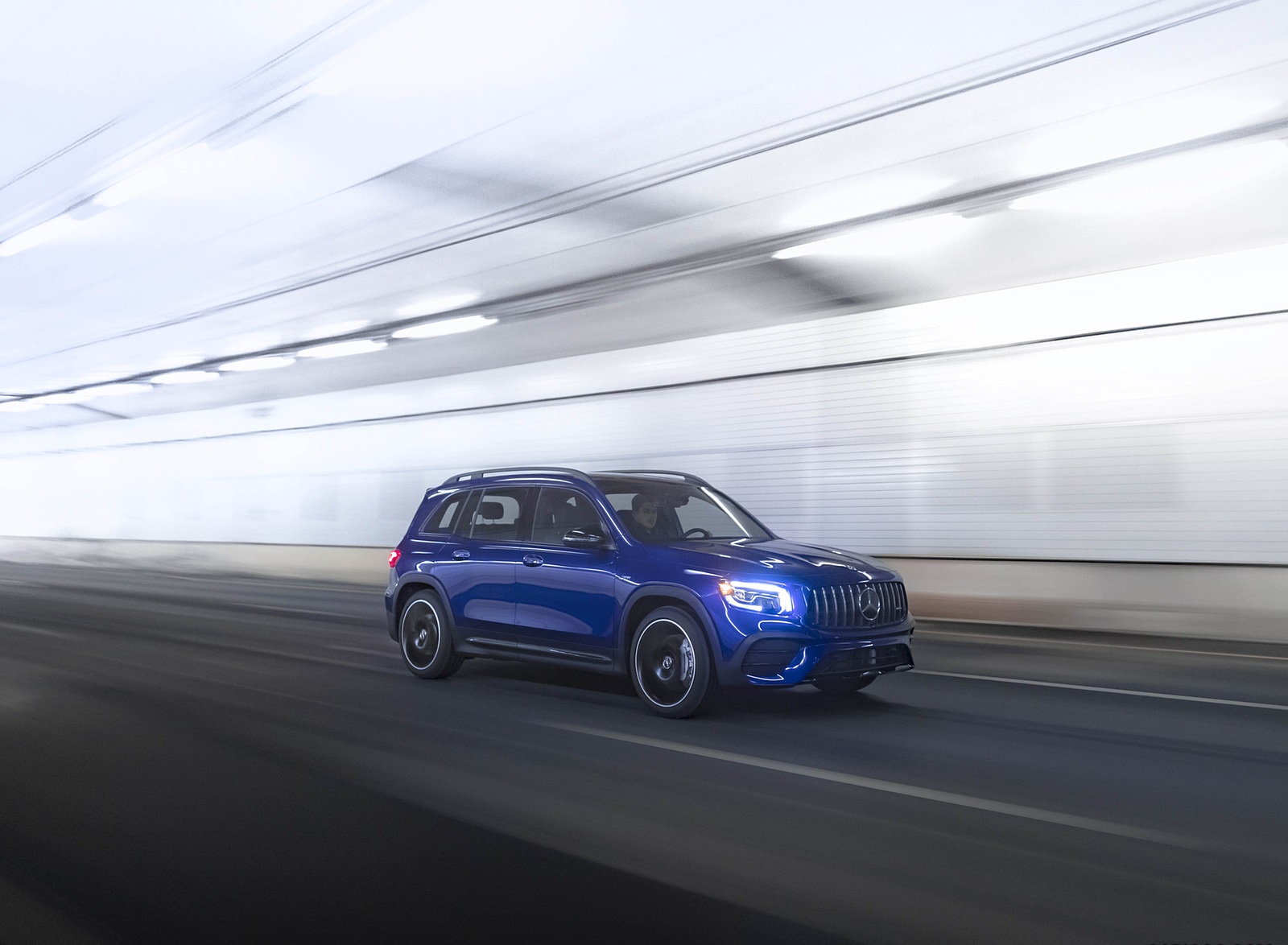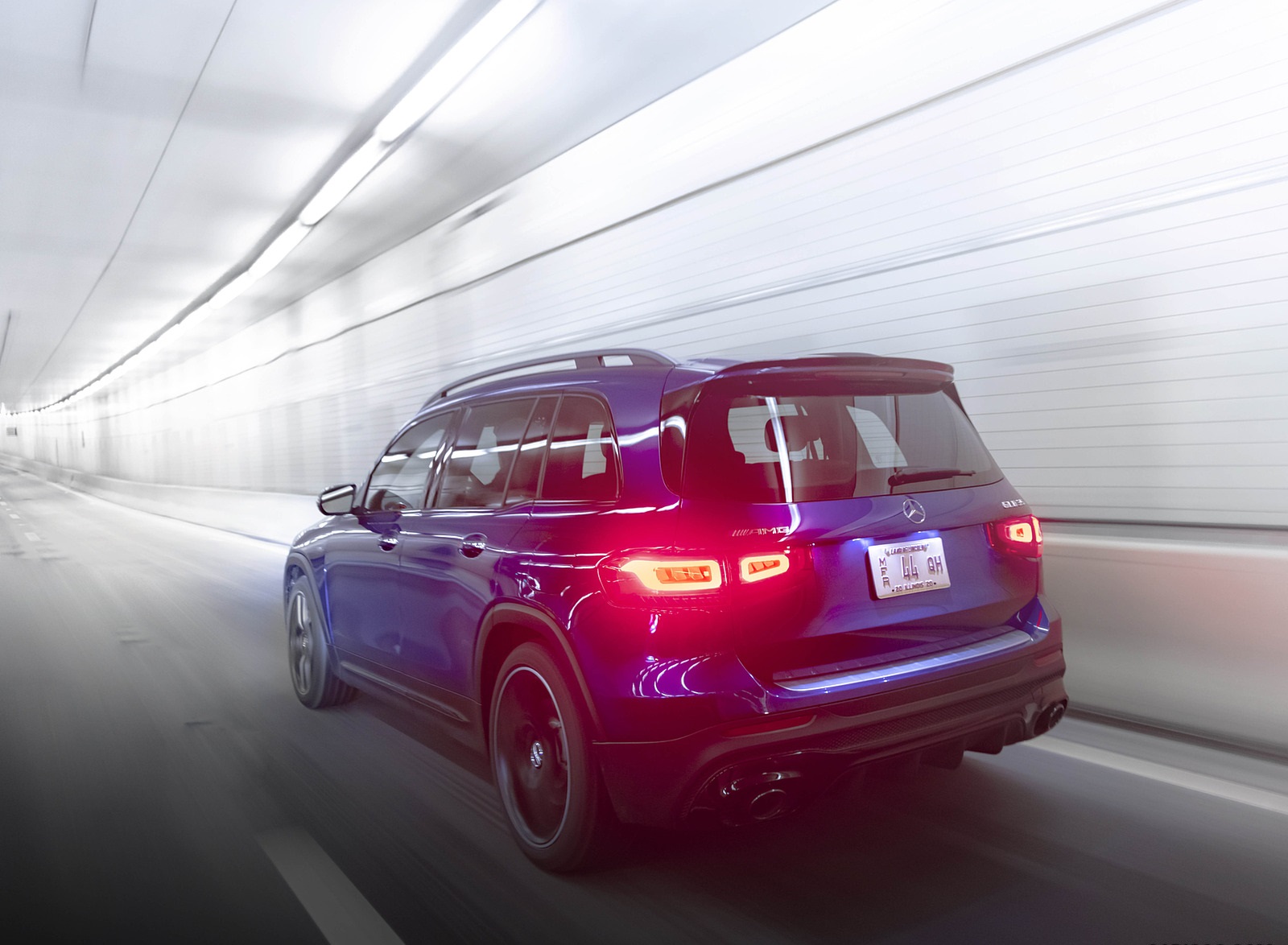 AMG DYNAMIC SELECT and AMG DYNAMICS
The five AMG DYNAMIC SELECT drive programs – Slippery, Comfort, Sport, Sport+ and Individual, enable a variety of driving experiences with a range from serene comfort to agile and sporty. The programs modify key parameters, such as the response of the engine, transmission, suspension and steering.
The new "Slippery" drive program is optimized for low-grip road conditions, with reduced power and a flat torque curve. Smooth gear changes, earlier upshifts and the ECO start/stop system enhance this stability-focused setting.
The "Comfort" program emphasizes comfortable and fuel-efficient driving, thanks to adjustments such as early upshifts. Suspension and steering are set up with an emphasis on comfort, and the ECO start/stop system is activated.
"Sport" and "Sport+" focus on agility and driving pleasure with sporty engine and transmission tuning. The ECO start/stop system is deactivated.
The "Individual" drive program enables individual parameters to be selected and saved according to personal preferences. In addition, the gliding function is available in the "Reduced" and "Moderate" drive settings.
The driving modes above are linked to the AMG DYNAMICS agility control, which means the handling characteristics can be even more closely matched with different requirements and driving conditions.
In the GLB 35, AMG DYNAMICS has the agility functions of "Basic" and "Advanced", and their functions are automatically activated by the relevant drive program. Relevant parameters such as the all-wheel drive torque distribution, the steering characteristics or the intervention thresholds of the newly developed ESP® (Electronic Stability Program) are intelligently adapted according to the drive program.
"Basic" is assigned to the "Slippery" and "Comfort" drive programs. In this configuration the GLB 35 has extremely stable handling with a high level of yaw damping.
"Advanced" is activated in the "Sport" program. The GLB 35 is then neutral and well-balanced. The lower level of yaw damping, reduced steering angles and increased agility enable a more dynamic driving style – for example, when driving on winding country roads.
Optimized traction: variable AMG Performance 4MATIC all-wheel drive
The performance-oriented all-wheel drive system continuously ensures the best possible ratio of dynamic performance, traction and efficiency. A multi-disc clutch with AMG-specific electromechanical control allows a variable torque split, which can be instantly changed according to the driving situation. This ranges from purely front-wheel drive to a 50:50 distribution to the front and rear axle. The factors for variable torque distribution include: driving speed, lateral and longitudinal acceleration, steering angle, as well as the difference in rotational speed between the individual wheels and the selected gear.
The all-wheel drive is regulated depending on the selected setting of the 3-stage Electronic Stability Program ESP® – from very stable to highly dynamic. The 4ETS dynamic handling control further enhances handling and agility, especially on slippery surfaces. 4ETS uses brake interventions to keep individual driven wheels from spinning when starting from a standstill or accelerating. At the same time, the differential locking effect enables torque to be shifted to the wheels that are not spinning.
Suspension for sporty driving and long-distance comfort
The AMG suspension is tuned for high cornering abilities, low body roll and high comfort on long journeys. A complete redesign of all wheel-guiding components such as the steering knuckles and transverse control arms at the front axle, and the model-specific sub frame and wheel carriers at the rear axle, enable a direct response and increase the lateral dynamics. In addition to prioritizing sporty driving characteristics, the suspension developers at Mercedes-AMG also took care to maintain a suitable suspension balance for long-distance comfort.
Full control: speed-sensitive power steering and a high-performance braking system
The electromechanical, speed-sensitive power steering has a variable ratio and provides precise and authentic feedback. The steering servo assistance is reduced at high speeds, and continuously increases at lower speeds. This means that comparatively little steering force is required at low speeds, while the best possible control over the vehicle is maintained at high speeds. Depending on which drive program the driver has selected, it provides taut and sporty or more comfortable feedback.
The AMG high-performance braking system with silver brake calipers and black AMG lettering is a worthy counterpart to the AMG-enhanced powertrain. Deceleration is easily controlled with high fade-resistance. This control is ensured by the large brake discs, which are internally ventilated and perforated all-round. The front axle is fitted with 4-piston fixed calipers and cast iron brake discs, measuring 13.8 x 1.3 in, while the rear axle has 1-piston floating caliper and cast iron brake discs measuring 13.0 x 0.9 in.
Design: hallmark AMG appearance
The new GLB 35 is distinguishable by a variety of AMG model-specific design features. The AMG-specific radiator grille is used for the first time in a 35-series model, and emphasizes a clear membership in the AMG family. The front splitter, prominent rear bumper, two round tailpipe trim elements and the AMG roof spoiler also guarantee a strong AMG presence.
The 19-inch AMG 5-spoke light-alloy wheels in gray with a high-sheen finish and the AMG high- performance braking system, with silver brake calipers and black AMG lettering, provide further exterior highlights. Additional wheel options from 19 to 21 inches are available on request. The optional AMG Night package features aggressive design elements such as the front splitter and rear bumper trim in high-gloss black as well as black chrome-plated exhaust tailpipe trim.
Sporty and unique interior
The AMG family character is reinforced inside the GLB 35 thanks to its unique sport seats in black MB-Tex / DINAMICA microfiber with red double topstitching, in addition to its striking red seat belts. Two optional leather packages with a choice of two-tone upholsteries, in classic red/black, for example, enhance the interior's unique look even further.
MBUX infotainment system featuring AMG-specific displays
The innovative MBUX control and display concept creates an even closer bond between the vehicle and its occupants. The latest version of MBUX also contributes to the high everyday usability of the new GLB 35. Configurable displays such as the particularly striking Supersport mode with a central, round rev counter and bar graph-style driver information display, enhance the interior's exclusive look.
Whether operated via the touchpad, Touch Control buttons on the steering wheel, by voice control or gesture control, MBUX's control concept is versatile and flexible. Thanks to the innovative voice control – activated using the keyword "Hey Mercedes" – the AI software recognizes and understands practically all common commands in infotainment and vehicle control – even when spoken indirectly.
With three AMG-specific display styles "Classic", "Sport" and "Supersport", vehicle functions are visualized on the left side of the instrument cluster, as well as the touchscreen display on the right. Visually, the two displays blend under one shared glass cover into a Widescreen Cockpit. As a central interior element, they also emphasize the interior's horizontal design orientation.
Multifunction sports steering wheel
The multifunction sports steering wheel in nappa leather provides first-class ergonomics and intuitive operation. The flat-bottom steering wheel rim, with perforated leather in the grip area and red contrast topstitching, is both attractive and pleasant to the touch. The galvanized steering wheel gearshift paddles enable an even sportier driving style with manual gear shifting.
The optional AMG Performance steering wheels and accompanying AMG steering wheel buttons are designed for performance driving. The AMG buttons placed inside the wheel rim allow for fast and confident operation of specific dynamic functions – enabling a focused, concentrated and performance-oriented driving style.
Optional third seat row for two additional passengers
The new GLB 35 is the first compact car by Mercedes-AMG to be available with a third seat row consisting of two additional individual seats. The optional third seat row also includes fore-and- aft adjustment of the second seat row and an EASY-ENTRY feature. The second seat row has a 40:60 split. The seats can be lowered to be flush with the load compartment floor, providing additional cargo space.
Convenience features in the third row include two drink holders between the seats and two stowage compartments with rubber-lined inserts in the load compartment paneling. Each of these compartments is fitted with a USB charging socket.
Extensive safety equipment inside the vehicle also reinforces its high day-to-day usability. This equipment consists of extendable head restraints, seat belts with tensioners and belt force limiters, a window airbag that also protects the passengers in the third seat row, and i- Size/ISOFIX and Top-Tether anchorages for suitable child seats.
Even more dynamic: the AMG RIDE CONTROL suspension
The optionally available AMG RIDE CONTROL suspension further improves dynamic performance. The adaptive, electronically controlled damping provides a wide range of setups ranging from comfortable to very sporty. The damping is adjusted individually for each wheel and depends on the driving style, road surface and the selected suspension setting.
The best possible operating setting is always selected based on a variety of data, such as acceleration and vehicle speed. Suspension characteristics are modified by simply selecting one of the drive programs: Comfort, Sport or Sport+.
The 2021 AMG GLB 35 will celebrate its World Premiere at the Frankfurt Motor Show in September, and will go on sale in the U.S. by late 2020.
Technical data at a glance
| | |
| --- | --- |
| | 2021 Mercedes-AMG GLB 35 |
| Engine | 2.0-liter 4-cylinder in-line with exhaust turbocharger |
| Displacement | 1991 cc |
| Output | 302 hp at 5800-6100 rpm |
| Peak torque | 295 lb-ft at 3000-4000 rpm |
| Drive system | AMG Performance 4MATIC variable all-wheel drive |
| Transmission | AMG SPEEDSHIFT DCT 8G dual clutch transmission |
| Acceleration 0-60 mph | 5.1 s |
| Top speed | 155 mph* |
View the complete gallery
Share your Thoughts!