2019 Aston Martin DBS Superleggera Volante
Aston Martin delivers fastest convertible model in company's history with 211mph top speed.
Flagship Super GT now available in Volante form.
Powered by 5.2-litre V12 delivering 715BHP @ 6,500rpm.
Max torque 900Nm @ 1,800-5,000rpm.
Extensive options list offers exceptional levels of customisation.
Deliveries scheduled for Q3 2019.
Aston Martin has opened the roof on its ultimate open-top driving experience; the new DBS Superleggera Volante. Combining three iconic nameplates in one flagship model, the new DBS Superleggera Volante delivers all the evocative talent of the British marque's critically-acclaimed Super GT flagship – the magnificent DBS Superleggera – and blends it with class-leading convertible technology.
The second Aston Martin to carry the Volante name following the introduction of the company's Second Century Plan, DBS Superleggera Volante has been designed in-house under the guidance of Executive Vice President & Chief Creative Officer Marek Reichman. With the aim to create the most beautiful flagship Volante on the market, Aston Martin's primary mission has also been to retain the coupe's powerful dynamics, aggressive poise and astonishing performance.
Executive Vice President & Chief Creative Officer Marek Reichman said: "DBS Superleggera produces a spectacular and relentless level of performance and so for the Volante, we focussed on bringing that extra level of sensory overload that only an open-top Super GT can deliver inside the cabin. With the unique dynamics, beautiful yet brutish design and the unmistakable harmonics of Aston Martin's 5.2-litre V12 engine, we believe we have delivered a unique and unforgettable driving experience that is synonymous with the traditions of the Volante name."
Powered by Aston Martin's own 5.2-litre twin-turbo V12, producing 715BHP 900Nm of torque, and with a top speed of 211mph, the DBS Superleggera Volante boasts ferocious acceleration. While covering 0-62mph in just 3.6 seconds and 0-100mph in 6.7 seconds.
DBS Superleggera Volante continues the aerodynamic masterpiece of the coupe model, commanding and exploiting the surface airflow to maximum effect. At the front, the car's splitter and airdam work in unison, accelerating airflow underneath the front of the car to deliver true downforce and assist cooling by feeding air to the front brakes. The new deeper side strake draws more air from the front wheel arch to reduce lift and aid high-speed stability.
Behind the front wheels, the 'curlicue' allows air to escape and flow smoothly along the car's flanks, while the double diffuser at the rear allows air to exit cleanly and neutralise lift as efficiently as possible. A revised iteration – to accommodate the Volante's clothed roofline – of the revolutionary Aeroblade ll system continues to deliver additional downforce at the car's rear. At VMAX, DBS Superleggera Volante produces 177kg of downforce, just 3kg less than the coupe, an impressive feat when considering the car's fundamental aerodynamic changes.
Each dynamic driving mode brings its own level of noise too, feeding the level of emotional character and connection. In GT mode, the engine note simmers, but select Sport or Sport Plus and the acoustics become progressively more intense. Conversely, when you wish to be discreet, 'quiet start' offers a low-key alternative to DBS Superleggera Volante's otherwise rousing flare of revs on start-up.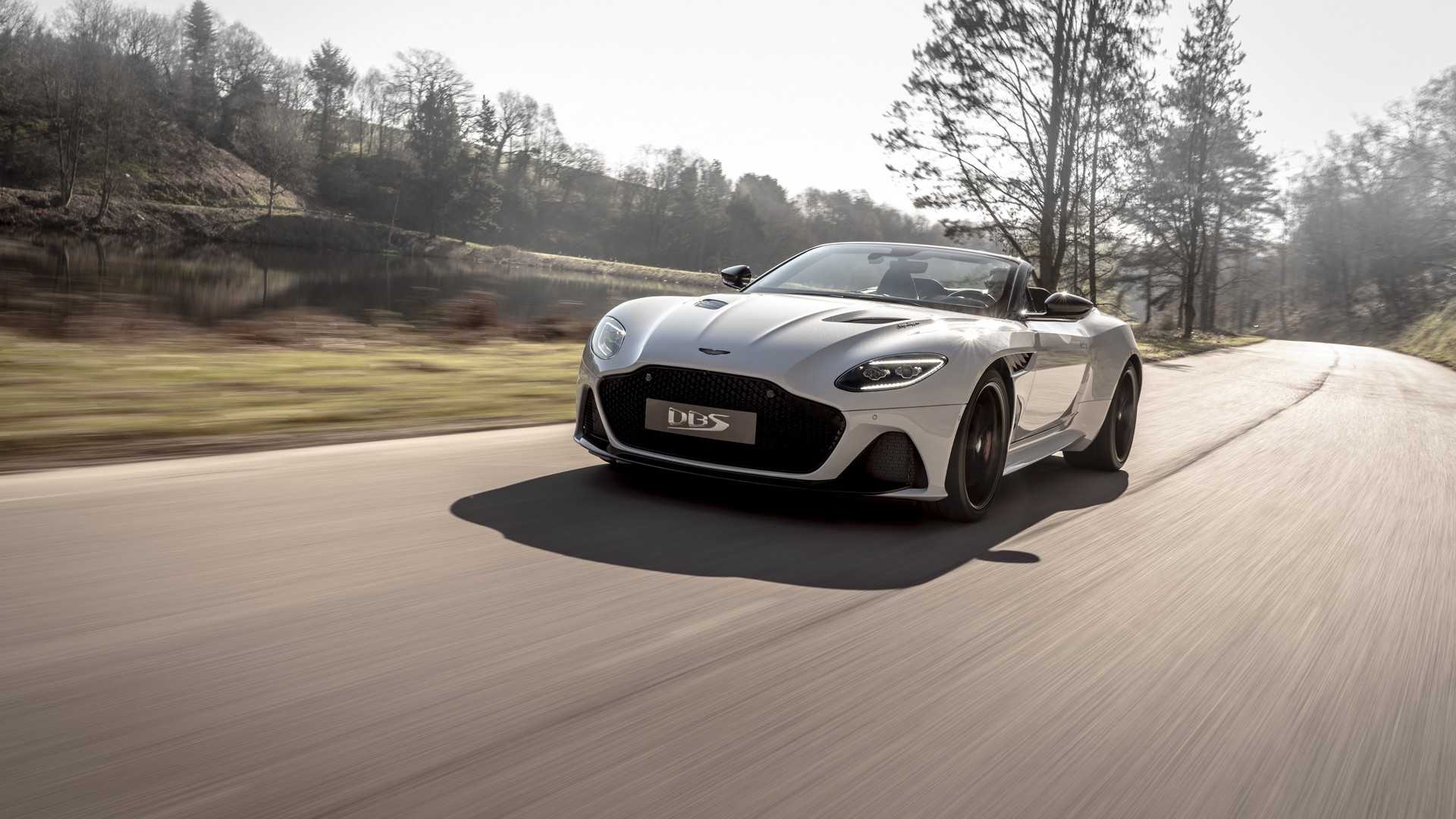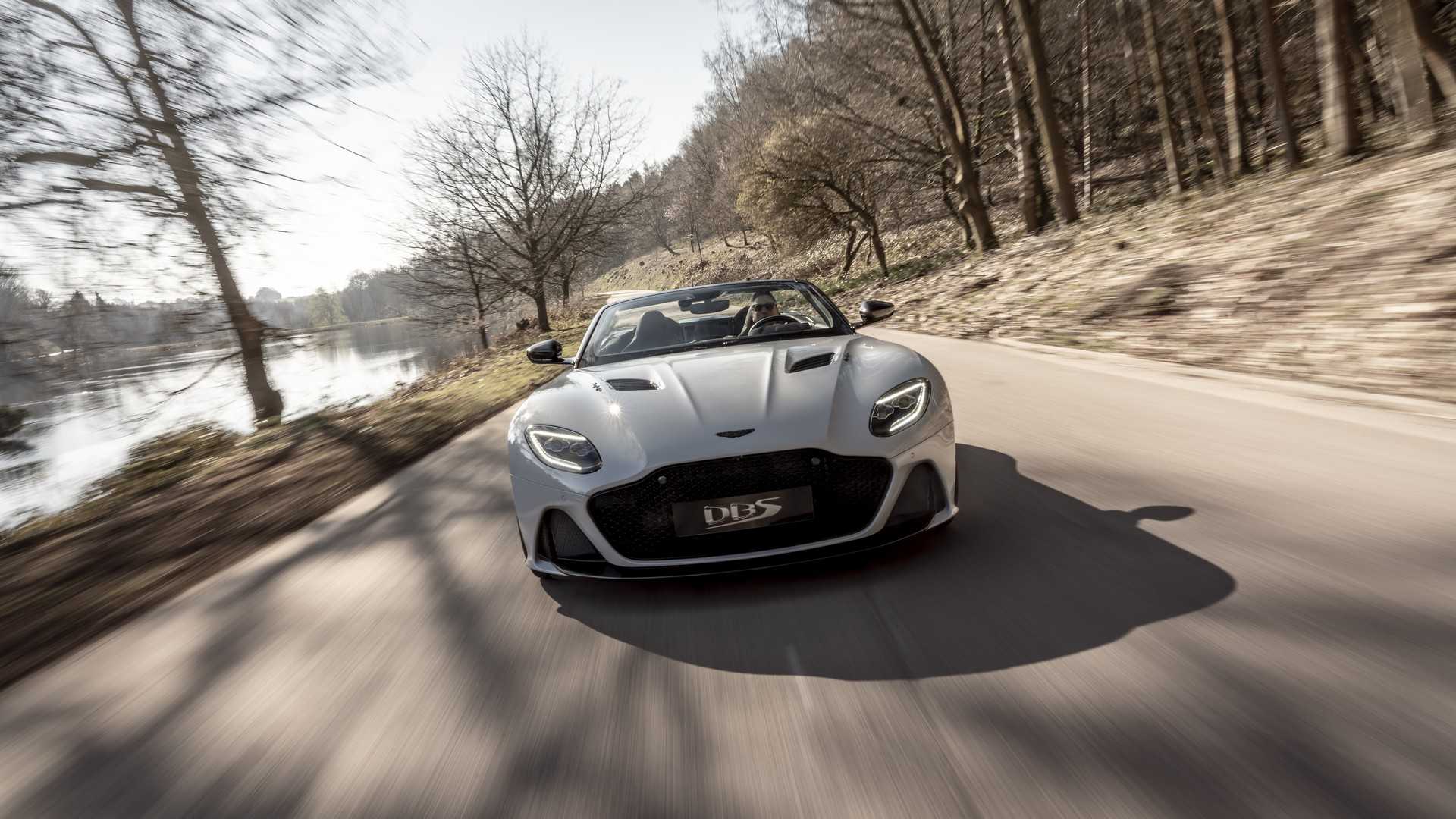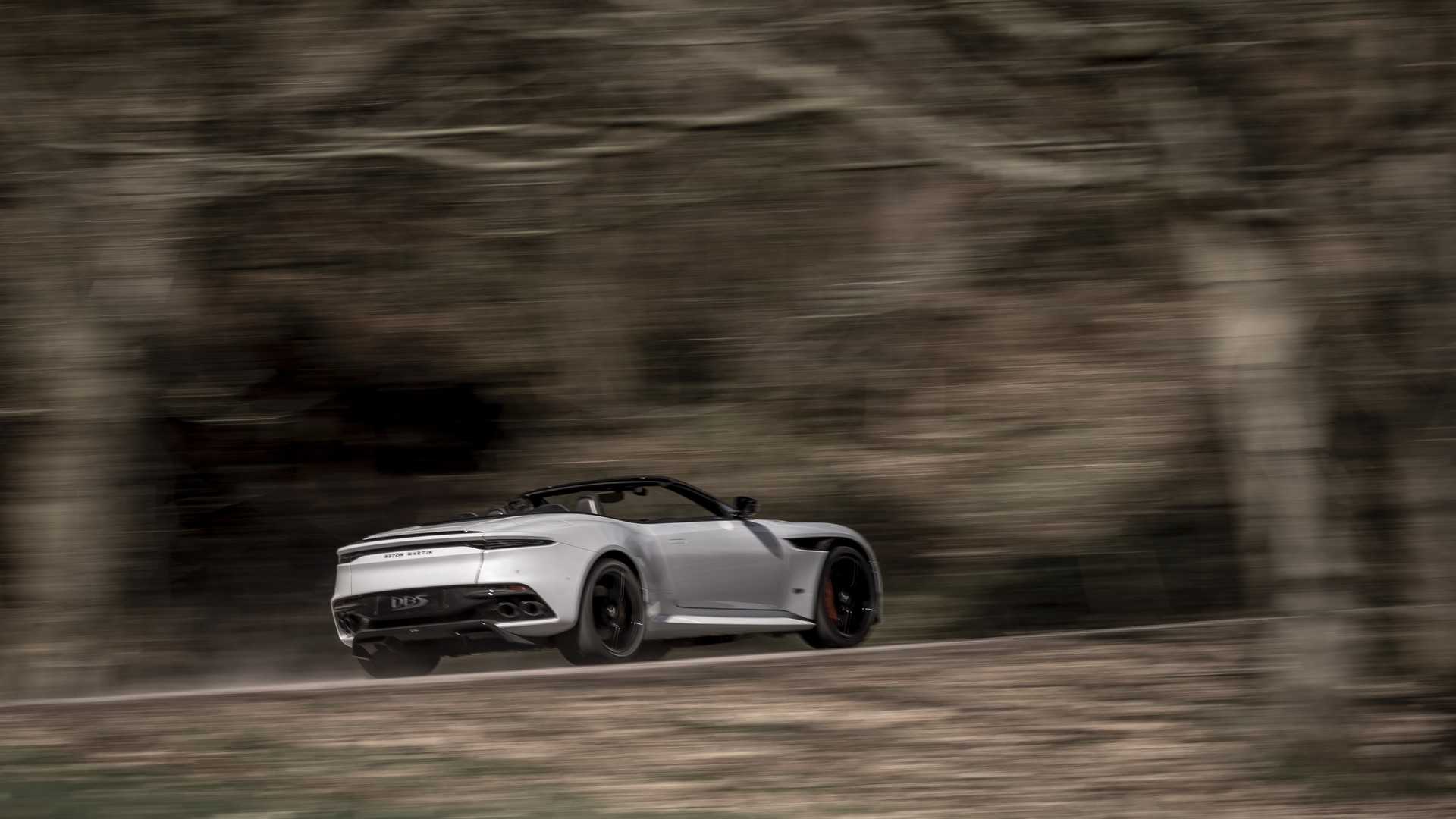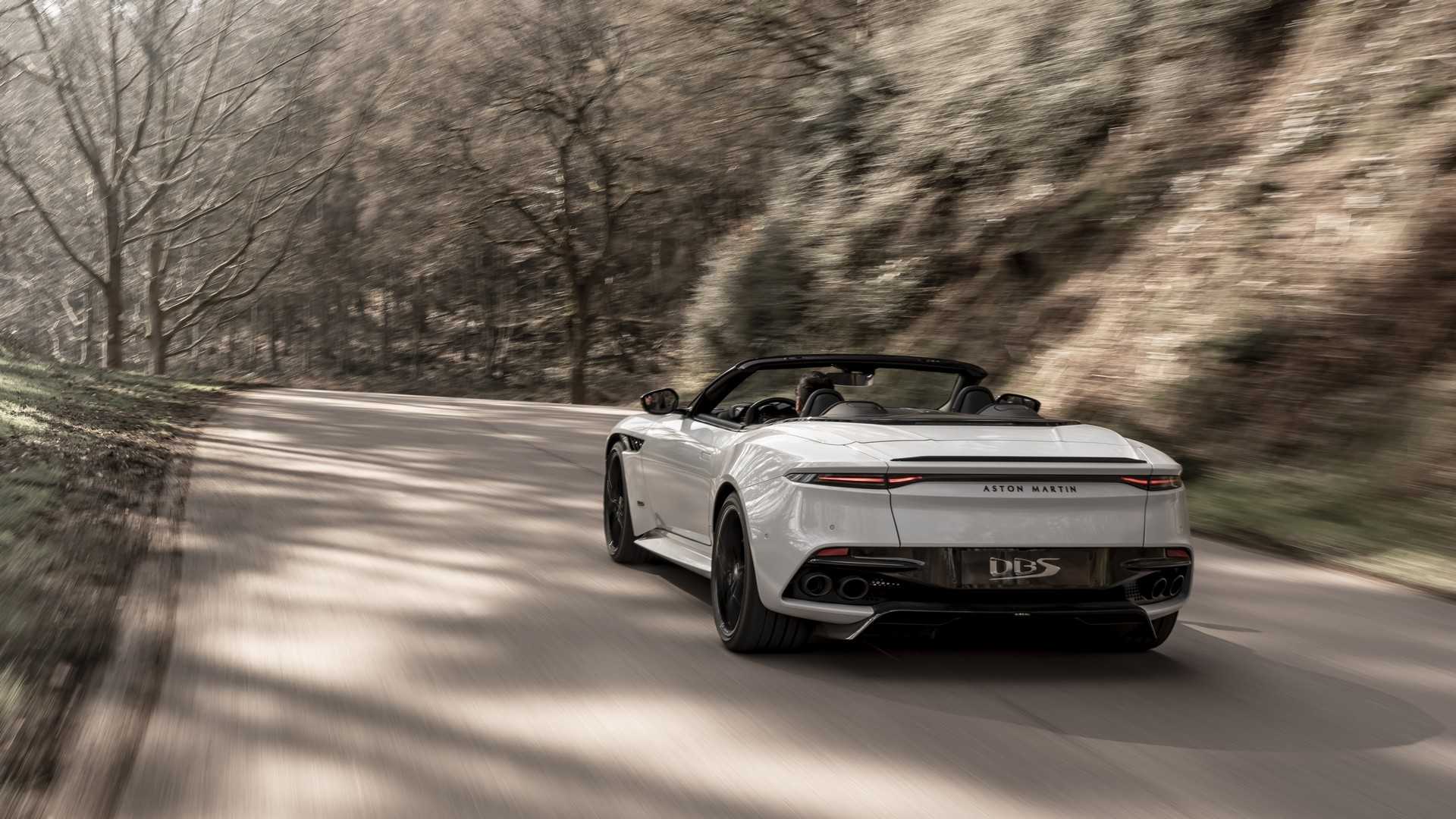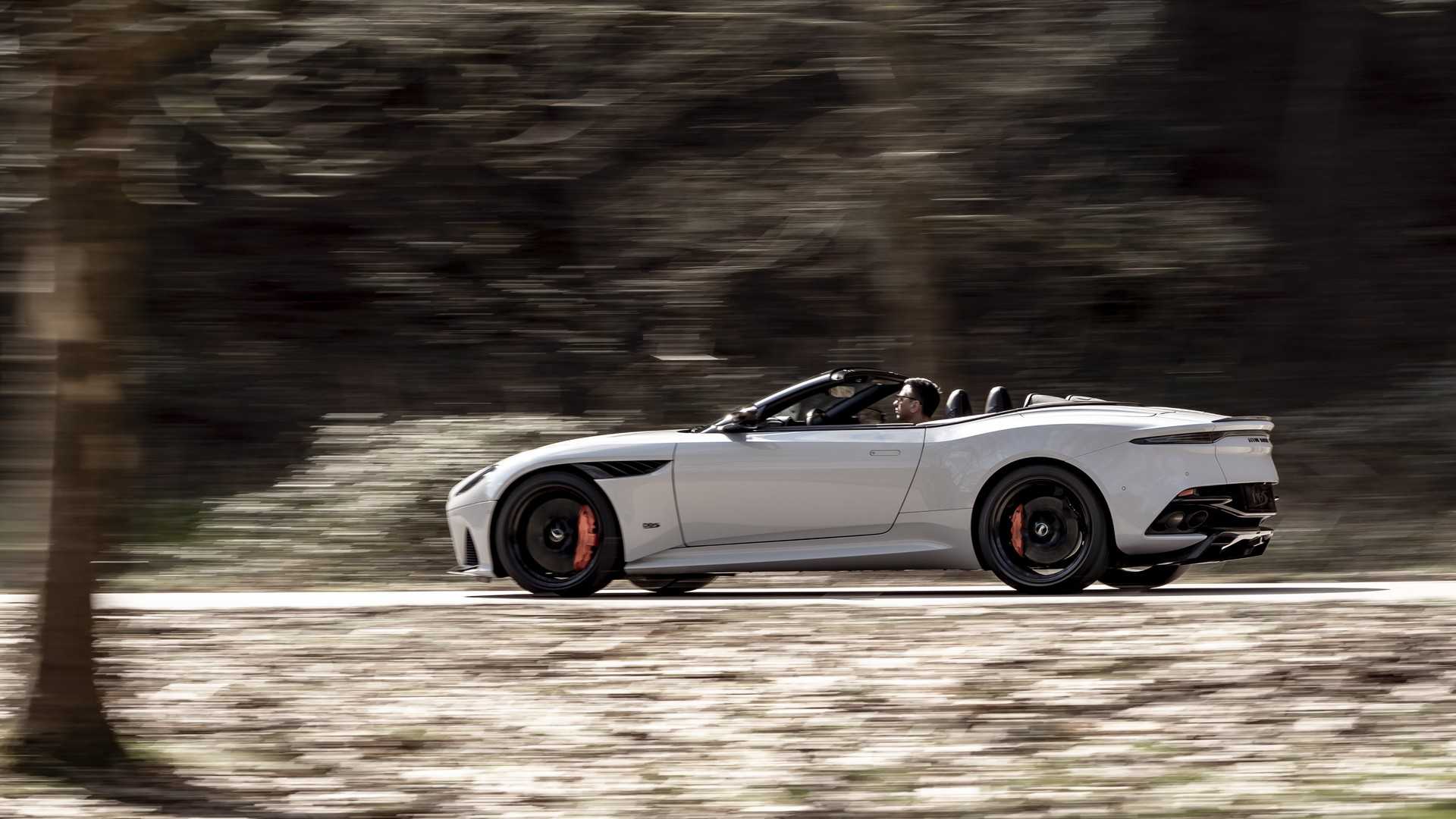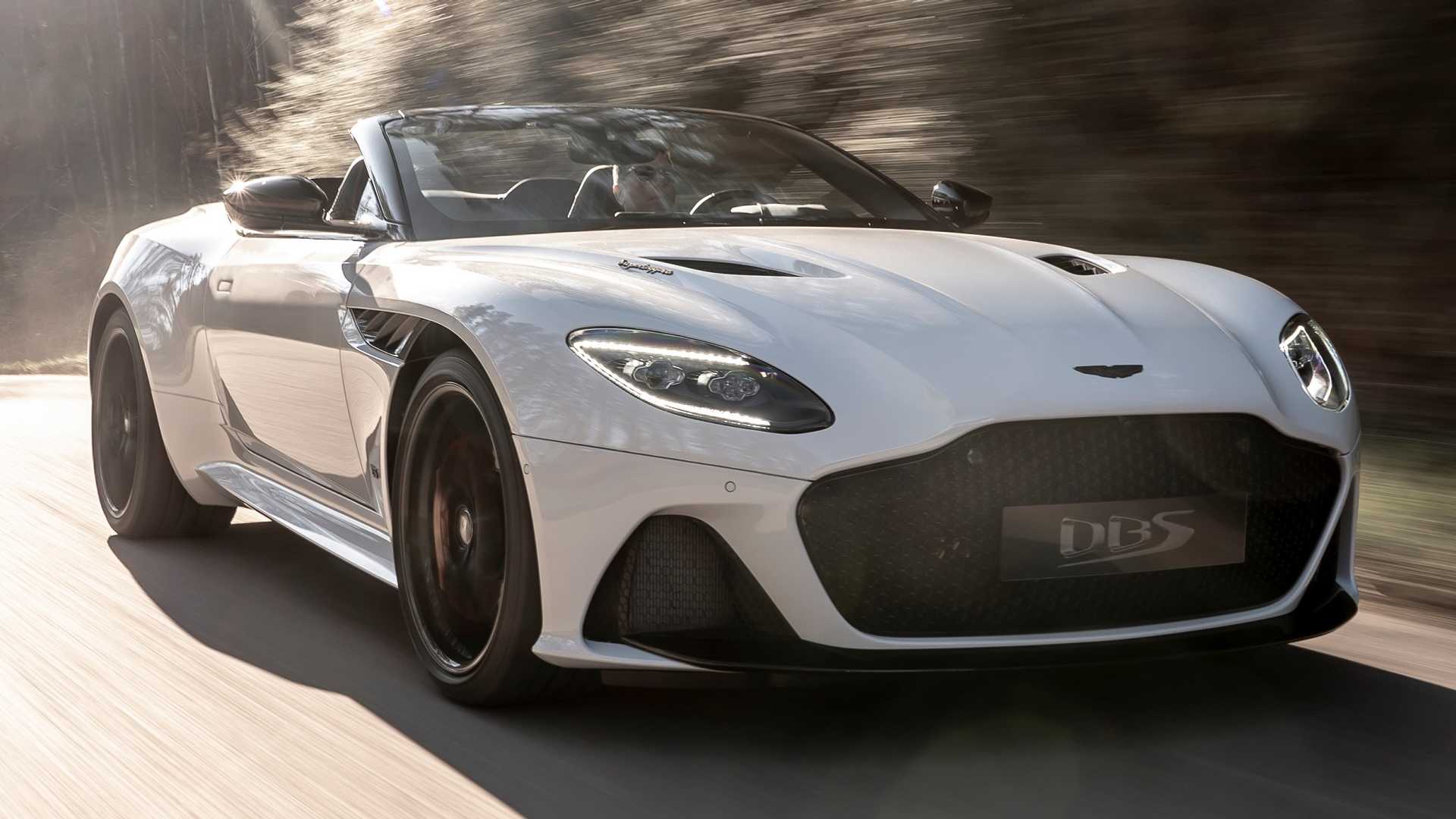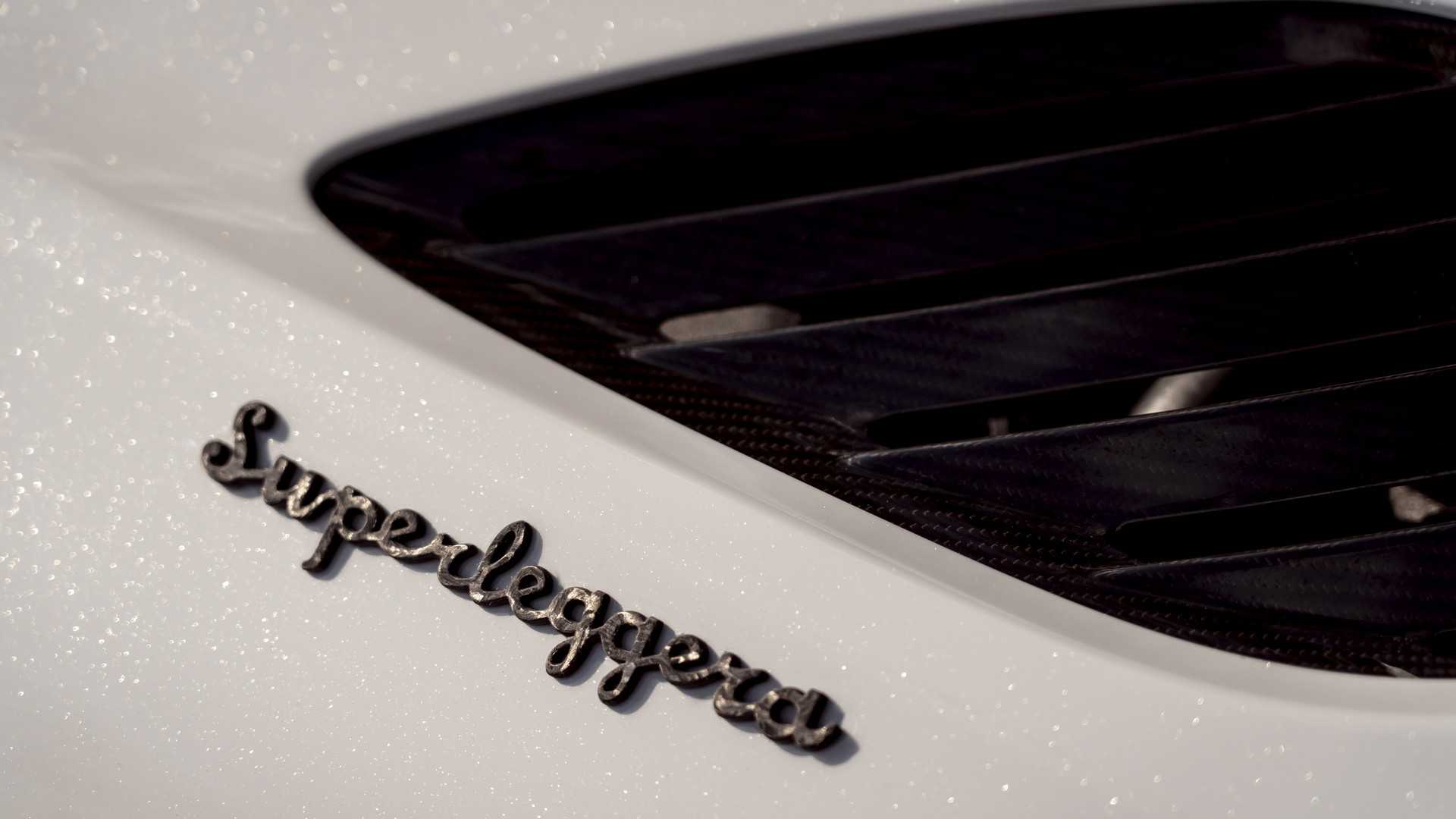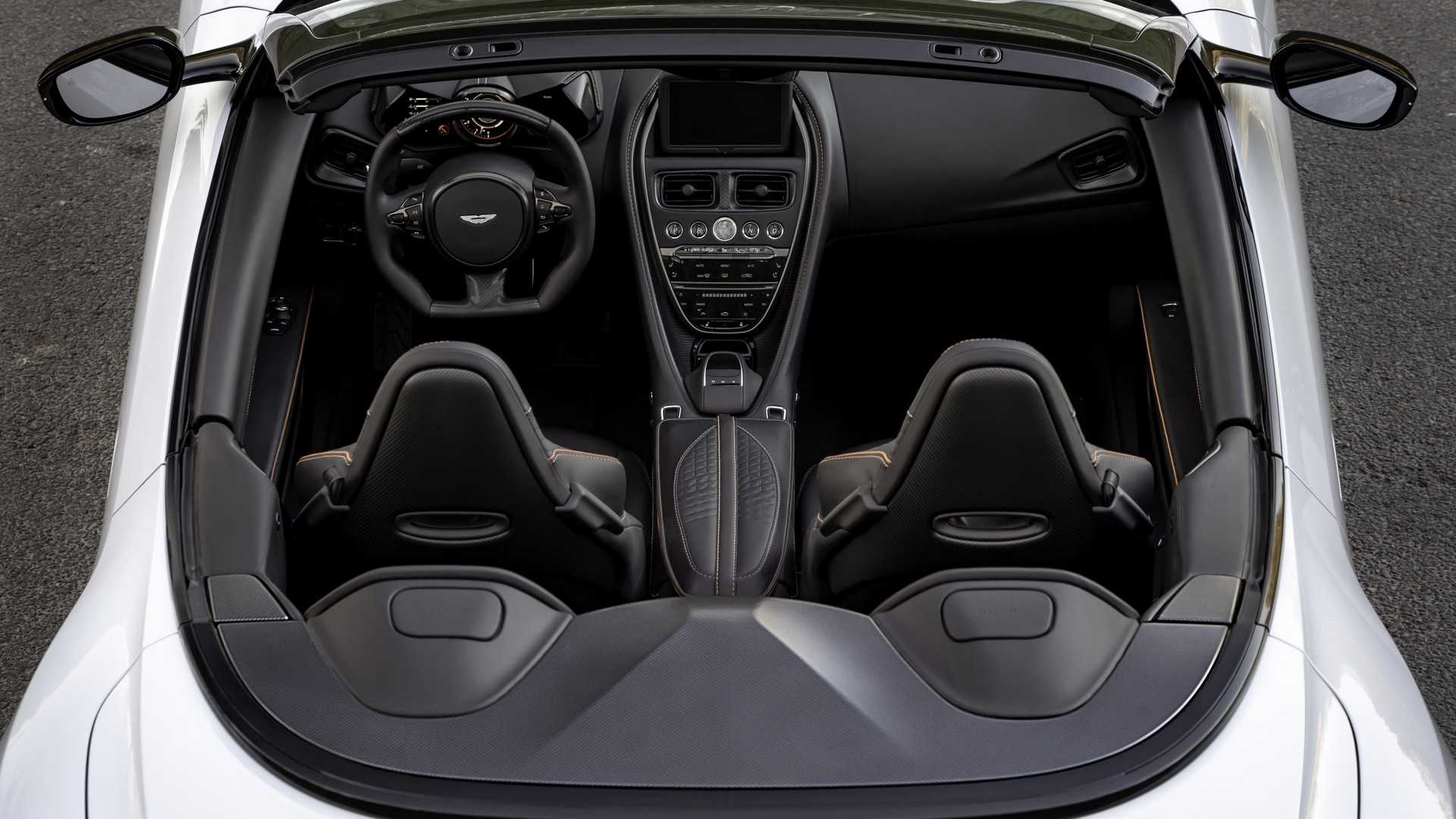 900Nm of torque is fed via a carbon-fibre prop shaft to a new ZF 8-speed automatic transmission mounted at the back of the car. Strengthened to cope with the V12's massive torque output, this transmission also has a shorter final drive for increased responsiveness and in-gear acceleration. Specially developed adaptive software gauges the conditions the car is operating in, along with the driver's demands, to ensure the car is in exactly the right gear at the right time.
Volante is a name that can only be attributed to convertible cars bearing the iconic Aston Martin wings badge, and thus the defining feature of any Volante is its roof. An advanced fabric system allows for an innovative and beautiful formed flowing roof line. Incorporating eight layers of insulation materials and acoustically enhancing materials, the canopy greatly improves the comfort of the interior cabin for all occupants when up, but allows a true orchestra of sound to pour into the cabin when retracted.
The authentic soundtrack delivered by the car's powertrain is a critical hallmark of the Volante experience and typically, the DBS Superleggera Volante has been tuned to provide incredible sound quality synonymous with an Aston Martin Super GT. Equipped with a quad exhaust system DBS Superleggera Volante delivers a pure, harmonic and authentic voice, unmatched by its rivals.
Aston Martin's engineers have worked hard to ensure the best possible roof and rear package is achieved, while still delivering conflicting targets of styling and durability. With a class-leading stack height of 260mm for the car's folded roof, DBS Superleggera Volante maintains a smooth seamless rear profile and maximised luggage capacity. Roof operation takes 14 seconds to open and 16 seconds to close and can be operated from inside or, for added convenience, from the remote key within a two-metre radius of the car.
Exposed to conditions as extreme as the heat of Death Valley and the extremities of the Arctic Circle during development, the roof mechanism has been put through more than 100,000 cycles. Simulating 10 years of usage into a one-month test, the functional capability of the roof mechanism has been thoroughly tested.
Continuing Aston Martin's persistence for offering extensive levels of customisation, DBS Superleggera Volante's hood is available in eight distinct colours including Bordeaux Red, Atlantic Blue and Titan Grey. The hood can be further personalised on the inside, with a further six Rokona headliners. For the first time on an Aston Martin Volante model, the window screen surround is available with a 2×2 twill carbon fibre finish, with the option to continue that theme to the car's tonneau cover and rear waterfall. Large pieces of finely-woven carbon fibre pieces replace what was once swathed in leather and for the most exclusive specifications, tinted carbon fibre is also available for selection.
Aston Martin Lagonda President and Group CEO, Dr Andy Palmer, said of the DBS Superleggera Volante: "There is nothing on earth that compares to the roar of an Aston Martin V12 and I believe that the DBS Superleggera Volante provides one of the greatest sensory experiences in the automotive world. This is truly a testament to the no compromise approach of our engineers and designers, to deliver the two key aspects of a convertible Super GT. Exceptional performance in an irresistible form, DBS Superleggera has justifiably won the hearts and minds of Super GT lovers the world over, and the Volante takes this concept to the next level".
DBS Superleggera Volante is priced at £247,500 (RRP inc Tax)* in the UK, €295,500 (RRP in Tax)* in Germany and $329,100 (MSRP inc. Gas Guzzler Tax)* in the US. Deliveries are set to begin from Q3 2019.
*Indicative pricing awaiting final homologation data
Aston Martin DBS Superleggera Volante Specification
Body
Two-door Volante body style with 2+2 seating
Extruded bonded aluminium body structure with composite panels
LED high and low beam headlamps with integrated direction indicator, daytime running lights, position lamp, lock/unlock graphic theatre
Signature LED tail lamp with stop tail and dynamic indicator functions
Carbon Fibre Clamshell bonnet
Side louvre
Aeroblade
Engine
All-alloy quad overhead cam, 48-valve 5.2-litre bi-turbo, V12 with stop/start cylinder deactivation
Water-to-air Charge Cooling
Front mid-mounted engine, rear-wheel drive
Fully catalysed stainless-steel exhaust system with cross pipes
Compression ratio 9.3:1
Dual Variable Camshaft Timing
Knock-sensing
Fully CNC machined combustion chambers
Electrically controlled exhaust
Maximum power: 715bhp/725PS @ 6500rpm
Maximum torque: 900Nm/663lb ft @ 1800-5000rpm
Acceleration: 0-62mph (0-100km/h) in 3.6 seconds
Maximum speed: 211mph
Fuel Economy
Combined MPG (WLTP): 20.1*
Combined l/100km (WLTP): 14*
CO2 (NEDC): 295g/km*
*Estimated figures
Transmission
Rear mid-mounted ZF eight-speed automatic transmission
Alloy torque tube with Carbon Fibre propeller shaft
Final drive ratio: 2.93:1
Steering
Electric power assisted steering rack with 13.09:1 steering ratio
Speed-dependent rack and pinion power-assisted steering, 2.27 turns lock-to-lock
Suspension
Front independent double wishbone design coil springs, anti-roll bar and adaptive damping
Rear multi-link, coil springs, anti-roll bar and adaptive damping
Adaptive Damping System (ADS) with Skyhook technology modes GT, Sport and Sport Plus
Wheels & Tyres
21" Ten Twin spoke wheel – silver
Front 21" Pirelli P Zero 265/35/21
Rear 21" Pirelli P Zero 305/30/21
Brakes
Front ventilated carbon ceramic brake discs 410mm diameter
Rear ventilated carbon ceramic brake discs 360mm diameter
Electric park brake
Dynamic Stability Control (DSC)
Anti-lock braking system (ABS)
Electronic Brake Distribution (EBD)
Emergency Brake Assist (EBA)
Traction Control (TC)
Hydraulic Brake Assist (HBA)
Positive Torque Control (PTC)
Dynamic Torque Vectoring (DTV)
DIMENSIONS
Length: 4715mm
Width: 2145mm (including door mirrors)
Rear width: 1970mm (excluding door mirrors)
Front width: 1942mm (excluding door mirrors)
Height: 1295mm
Wheelbase: 2805mm
Front overhang: 915mm
Rear overhang: 995mm
Ground clearance: 120mm (excluding air dam)
Ground clearance: 90mm (including air dam)
Front track: 1665mm
Rear track: 1645mm
Angle of approach: 9.5 degrees
Angle of departure: 13 degrees
Turning circle: 12.3m
MASS
Dry weight from: 1863kg
Weight distribution: 50:50
STANDARD SPECIFICATION
Primary exterior paint colour
2×2 Carbon Fibre gloss exterior body pack
Quad exhaust with Matte Black finisher
Red tail lamps
Black front grille
Body coloured Windscreen surround finisher
Black under bonnet cross brace
Gloss Black side louvre
Black bonnet mesh
Exterior body coloured mirror caps
Primary coloured hood outer
21" Ten Twin spoke wheels – silver
Dark Anodised brake calipers
Enamel wing badges
Sports Plus seats
Caithness leather and Alcantara environment
Obsidian Black leather sports steering wheel
Headrest detailing – DBS embroidered logo
Carpet cabin
Dark Chrome interior jewellery
Piano Black trim inlay
Automatic temperature control
Keyless entry
Front and rear parking sensors
Tyre pressure monitoring system
Alarm and immobiliser
Memory and heated seats
Heated rear screen
Side mirror tilt down on reverse
Parking distance display and parking assist
Floor mats
IN-CAR ENTERTAINMENT
Aston Martin premium audio system
Touch pad
8.0" LCD screen
iPod and iPhone integration and USB playback
DAB and AM/FM radio
Bluetooth audio and streaming
Integrated Satellite Navigation System
360-degree camera
OPTIONAL FEATURES
EXTERIOR
Contemporary or Special Aston Martin exterior paint
Exterior body pack finishes – 2×2 Twill Gloss Carbon Fibre Tinted Black2
Hood outer – Contemporary or Special Hood outer
Side louvres – 2×2 Twill Gloss Carbon Fibre, 2×2 Gloss Carbon Fibre Tinted Black2
Bonnet louvres – 2×2 Twill Gloss Carbon Fibre, 2×2 Gloss Carbon Fibre Tinted Black2
Mirror caps – Gloss Black painted, 2×2 Twill Gloss Carbon Fibre, 2×2 Gloss Carbon Fibre Tinted Black2
21" Ten Twin spoke wheels – Shadow Chrome
21" Ten Twin spoke wheels – Gloss Black Diamond Turned
21" Forged twin spoke wheel – Gloss Black
21" Forged twin spoke wheel – Satin Black
Alternative brake caliper colours – Black, Red, Grey, Yellow, Q Madagascar Orange, Q Vivid Red, Q Vivid Blue, Q Vivid Orange or Anodised Bronze
INTERIOR
Full leather interior
Caithness or Balmoral leather
A Pillar – Alcantara or Matched to Leather
Rokona® – Contemporary hood inners
Contrast welt
Colour keyed boot carpet
Carbon Fibre steering wheel
Embroidered headrest – Aston Martin wings
Embossed headrest – DBS logo or Aston Martin wings
Placed or Geode perforation3
Triaxial or Geode quilting3
Option trim inlays – Dyed Open Pore Tamo Ash, 2×2 Twill Carbon Fibre Satin, Satin Chopped Carbon Fibre
Optional seat back veneers – Piano Black, Dyed Open Pore Tamo Ash, 2×2 Carbon Fibre Satin, Satin Chopped Carbon Fibre
Option interior jewellery – Satin Silver, Dark Chrome with 2×2 Twill Satin Carbon Fibre interior pack
Optional seat belt colours – Flint, Champagne, Spicy Red, Mocha, Graphite
Optional 2×2 Twill Carbon Fibre Tonneau cover and rear waterfall 5
Deep pile floor mats
FUNCTIONAL
Aston Martin tracking
Garage door opener
Bang & Olufsen BeoSound audio system
Ventilated seats
Wind Deflector
View the complete gallery
Share your Thoughts!